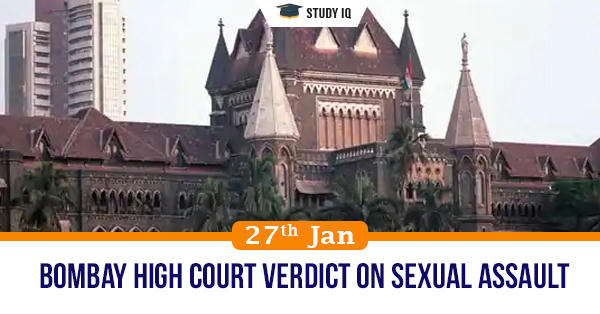 Bombay High Court verdict on sexual assault
Date: 27 January 2021
Tags: Judiciary & Judgments
Issue
The Bombay High Court has acquitted a man of sexual assault charges under the Prevention of Children from Sexual Offences (POCSO) Act for groping a child, and instead convicted him under the Indian Penal Code (IPC) for a lesser offence.
Background
The ruling has drawn criticism for its restricted interpretation of the offence and highlights the concept of mandatory minimum sentencing in legislation.
Details
The Nagpur Bench of the Bombay High Court reversed the decision of a sessions court which had convicted accused under Section 8 of the POCSO Act, and sentenced him to three years in jail.

The convict was accused of luring the 12-year old victim to his house on the pretext of giving her a guava, and pressing her breast and attempting to remove her salwar.

The High Court upheld the conviction under sections that carry a lesser minimum sentence of one year under the Indian Penal Code, including outraging the modesty of a woman.
Reasons
The court reasoned that since the offence under POCSO carried a higher punishment, a conviction would require a higher standard of proof, and allegations that were more serious.

The court said that since the convict groped the victim over her clothes, this indirect contact would not constitute sexual assault.
Restrictive interpretation
In State v Bijender (2014), a Delhi court acquitted a man under the POCSO Act and instead convicted him of IPC offences.

The court restrictively interpreted the lack of physical contact with sexual organs to mean that there was no physical contact.
POSCO Act
Section 8 of the POCSO Act carries a sentence of rigorous imprisonment of three to five years. However, imposing the minimum sentence is mandatory.

Courts do not have the discretion to pass lighter sentences irrespective of any specific circumstances that the case or the convict might present.
Mandatory minimum sentences
A mandatory sentence is prescribed to underline the seriousness of the offence, and is often claimed to act as a deterrent to crime.

Mandatory minimum sentences are also prescribed in some cases to remove the scope for arbitrariness by judges using their discretion.
Criticism of mandatory sentencing
Studies have shown that mandatory sentencing in laws lead to fewer convictions, because when judges perceive that the punishment for the offence is harsh, they might prefer to acquit the accused instead.
Way forward
Legal experts have argued that mandatory sentences are counterproductive to the aim of reducing crime or acting as a deterrent.

Instead of harsher punishment, they recommend judicial reform that makes the sentencing process more accountable and transparent.

This would include holding transparent proceedings for sentencing, recording specific reasons for punishment in rulings, etc.