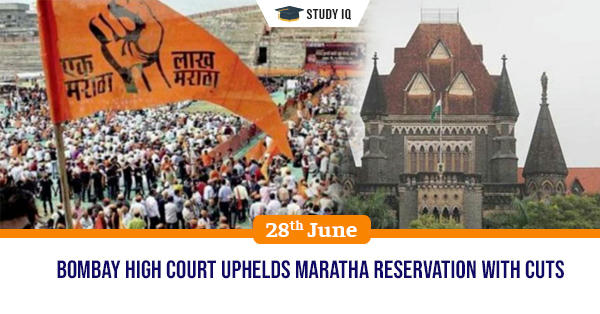 Bombay High Court uphelds Maratha reservation with cuts
Date: 28 June 2019
Tags: Judiciary & Judgments
Bombay High Court upheld Maharashtra government's decision to provide reservation to Maratha community under the Socially and Educationally Backward Classes (SEBC) Act, 2018. However, the court ruled that 16 % quota granted by state is not "justifiable" and reduced it to 12% in education and 13 % in government jobs, as recommended by the Maharashtra State Backward Class Commission (MSBCC).
HC Jugdement
In exceptional circumstances, limit of 50% reservation set out by Supreme Court in Indra Sawhney case of 1992 can be crossed subject to availability of quantifiable and contemporaneous data reflecting backwardness, inadequacy of representation and without affecting the efficiency in administration.

While the backwardness of Maratha community was not comparable to SCs and STs, it was comparable to several other backward classes, which find place in list of Other Backward Classes pursuant to the Mandal Commission.

State government has legislative competence to create a separate category of Socially and Educationally Backward Class (SEBC) and grant reservation.

It also held that though Maratha community had sufficient representation not to warrant reservation in the political arena, but that does not make it socially advanced.
Indra Sawhney case (also known as Mandal case): In 1992, nine-judge constitutional bench of Supreme Court had ruled that total reservation for backward classes could not go beyond 50 %.
Total Reservation in Maharashtra
The addition of 12-13% Maratha quota will take the total reservation in the state to 64-65%. Prior to this, in Maharashtra, following 2001 State Reservation Act, the total reservation is 52%. This includes quotas for SC (13%), ST (7%), OBC (19%), Special Backward Class (2%), Vimukti Jati (3%), Nomadic Tribe B (2.5%), Nomadic Tribe C-Dhangar (3.5%) and Nomadic Tribe D-Vanjari (2%). The quotas for Nomadic Tribes and Special Backward Classes have been carved out of the total OBC quota.