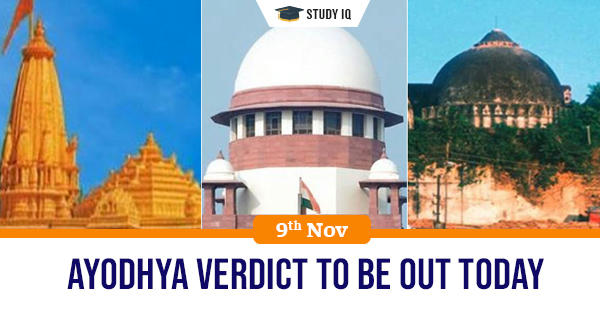 Ayodhya verdict to be out today
Date: 09 November 2019
Tags: Judiciary & Judgments
Issue
The Ayodhya dispute verdict, which is pending in Supreme Court since past nine years will be pronounced today.
Background
The verdict in the Ram Janmabhoomi-Babri Masjid land title case will be delivered by Supreme Court Chief Justice Ranjan Gogoi, bringing to a close one of modern India's longest-running Hindu-Muslim disputes.
Details
The Ayodhya dispute is a political, historical and socio-religious debate in India, centred on a plot of land in the city of Ayodhya, Uttar Pradesh.

The issues revolve around the control of a site traditionally regarded among Hindus to be the birthplace of the Hindu deity Rama, the history and location of the Babri Masjid at the site, and whether a previous Hindu temple was demolished or modified to create the mosque.

The Nirmohi Akhara, a religious denomination, had sought directions to construct a Ram temple on the disputed land in Ayodhya and wanted the management rights of the premises to be given to it.

Ram Lalla (or the infant Ram), represented by the Hindu Mahasabha, wanted the entire land to be handed over to them, with no part going to Muslim parties or the Nirmohi Akhara.

The Sunni Waqf Board, which looks after religious properties, had demanded that the Babri Masjid be restored to the form that existed before it was brought down by Hindu groups on 6 December 1992.

The Allahabad High court had pronounced its judgement on 30 September 2010 with majority decision of 2:1, and held that the 22.7 acres (1.12 ha) land located in Ayodhya will be divided into a three-way division, where one-third for the Sunni Waqf Board, one-third for the Nirmohi Akhara and one-third to the party for 'Ram Lalla' or infant Ram represented by the Hindu Maha Sabha.
Babri Masjid demolition
After a provocative speech by political leaders on 6th of december 1992, mob of violent political workers escaped protective barricades and destroyed the Babri Masjid, which was a disputed building in the Ayodhya case.

To investigate the occurance of events, a committee was formed involving a retired judge, known as Liberhan commitee.