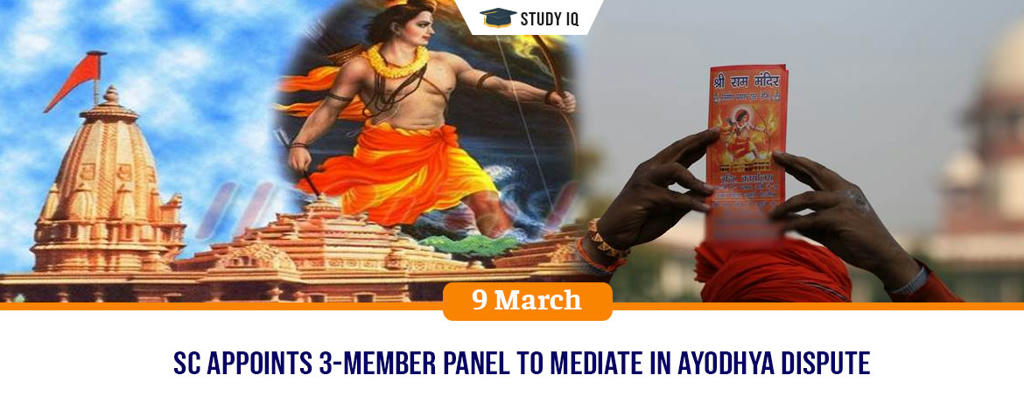 SC appoints 3-member panel to mediate in Ayodhya dispute
Date: 09 March 2019
Tags: Judiciary & Judgments
The five-judge Constitution Bench of Supreme Court led by Chief Justice of India Ranjan Gogoi has proposed court-monitored mediation in Ram Janmabhoomi-Babri Masjid land dispute case to arrive at a permanent solution.
Three-member mediation panel
SC has appointed three-member panel of mediators to find "permanent solution" to Ram Janmabhoomi-Babri Masjid land dispute in Ayodhya in eight weeks.
The panel will be headed by former Supreme Court judge F.M.I. Kalifulla as chairman and comprise of Art of Living founderSri Sri Ravi Shankar, and Sriram Panchu, a senior advocate with experience in alternative dispute resolution. All three panel members hail from Tamil Nadu
Mediation Process
Mediation panel has been given eight weeks and all mediators have been urged to "conclude at the earliest." Court also directed them to file status report in four weeks with 8 weeks' deadline to conclude the hearing.

It will start in week in Faizabad district (officially renamed to Ayodhya) of Uttar Pradesh of which disputed area is a part — with the process conducted in-camera.

Media has been refrained from reporting the proceedings, considering need for "utmost confidentiality" in conduct of mediation to ensure its success.
Ayodhya dispute
It is political, historical and socio-religious debate centred on ownership of plot of land in city of Ayodhya, Uttar Pradesh.

The main issues revolve around access to site (land) of Babri Masjid (16th century mosque) which is claimed by Hindus to be birthplace of Hindu deity Rama.

Section of Hindus argue that Hindu temple of deity Ram this site was destroyed by Mughals in 16th century and Babri Masjid erected on it.

Babri Masjid was destroyed during political rally which turned into riot on 6 December 1992. Subsequently, land title case was lodged in Allahabad High Court, e verdict of which was pronounced in September 2010.

Allahabad High Court had ruled that 2.77 acres of Ayodhya land be divided into 3 parts, with 1/3 going to Ram Lalla or Infant Rama represented by Hindu Maha Sabha for construction of the Ram temple, 1/3 going to Islamic Sunni Waqf Board and remaining 1/3 going to Hindu religious denomination Nirmohi Akhara.

Reacting to HC verdict, all the three claimant parties in the land dispute had appeal against the division of disputed land in Supreme Court for resolution of long-standing dispute.