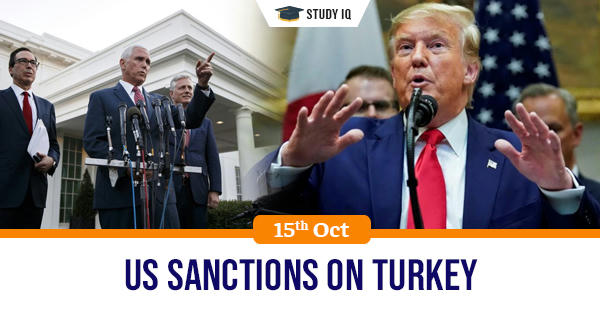 US Sanctions on Turkey
Date: 15 October 2019
Tags: International Politics
Issue
US President Donald Trump has announced sanctions on Turkey, aimed at restraining the Turks' assault against Kurdish fighters and civilians in Syria.
Background
Turkey has started its assault on Kurdish positions in Syria after US troops began vacating the territories. Turkey considers Kurds to be terrorists, who are running a secessionist movement to cause instability in the country.
Details
The Kurds face a military attack by Turkey, which wants to set up a 32km (20-mile) deep safe zone inside north-eastern Syria to protect its border and resettle up to 2 million Syrian refugees.

The US has called upon Turkey to stop their attacks on Syrians and a negotiation party consisting of Vice President Mike Pence and NSA Robert O'Brien have been sent to make a deal.

The Americans have been heavily criticised, both in home and internationally for their act of hasty withdrawal from Syria, which will make their allies, the Kurds, susceptible to Turkish assault.

As a result of this act by Turks sanctions have been imposed, which will hurt an already weak Turkish economy.
Kurds
Kurds are an Iranian ethnic group native to a mountainous region of Western Asia known as Kurdistan, which spans south eastern Turkey, north western Iran, northern Iraq, and northern Syria.
Kurds and their fight against ISIS
The Kurds were fighting alongside several local Arab militias under the banner of the Syrian Democratic Forces (SDF) alliance, and were helped by US-led coalition through air strikes, weapons and advisers

This steadily drove IS out of tens of thousands of square kilometres of territory in north-eastern Syria and established control over a large stretch of the border with Turkey.