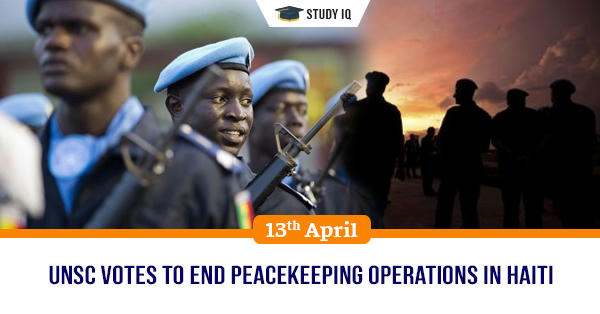 UNSC votes to end peacekeeping operations in Haiti
Date: 13 April 2019
Tags: International Politics
United Nations Security Council (UNSC) has unanimously voted for resolution to completely end its peacekeeping operations in Haiti on October 15, 2019. The resolution gives final six-month period for such operations and asks Secretary-General Antonio Guterres to plan political mission. This mission will support government efforts to promote order and development in Haiti, which is Latin America's poorest country.
What this resolution means?
There will be significant handover of responsibility back into hands of Haitian government and its people. Government of Haiti will step up and assume responsibility. It will bring end to peacekeeping mission in Haiti viz. United Nations Mission for Justice Support in Haiti which was mandated by UNSC through Resolutions 2350 (2017) and 2410 (2018).
Background
UN military peacekeepers had already left country on October 15, 2017, but stabilization group had stayed behind to train national police, help government strengthen judicial and legal institutions and monitor human rights.
Haiti's leaders had asked UN to allow government authorities to fully assume responsibility for security. Besides, UN asks Secretary-Genera; Guterres' recent report also had cited increased capacity, leadership, and crime prevention operations of Haiti's police. But the country continues to face significant challenges and progress in its social, economic and political development is crucial to achieving lasting stability.