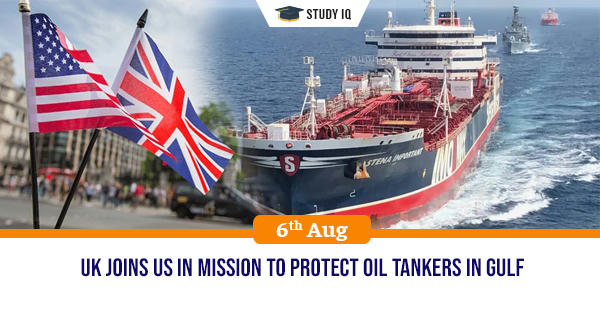 UK joins US in mission to protect oil tankers in Gulf
Date: 06 August 2019
Tags: International Politics
Context: Britain is to join the US in a naval mission to protect oil tankers in the Gulf from seizure by Iran, as London shifted away from plans for a European-led mission that had been proposed by the former foreign secretary Jeremy Hunt
Highlights:
The announcement comes more than a fortnight after Iran seized the British oil tanker
Dominic Raab, the new foreign secretary, said the UK had to respond to the "increased threat" now. He added: "Our aim is to build the broadest international support to uphold freedom of navigation in the region, as protected under international law."
Meanwhile, Iran accused the US of engaging in "economic terrorism" against its people. The Iranian foreign secretary, Mohammad Javad Zarif, also warned Britain that acting in concert with the Trump administration would bring about a response from Tehran.
France and Germany had indicated they would refuse to join any US-led mission, amid concerns about being too closely aligned to a Trump administration that has pulled out of the nuclear deal and contemplated airstrikes on the country.
A fifth of the world's oil passes through the waterway, bounded to the north by Iran, which has been accused of pursuing a policy of disrupting shipping in an attempt to lift the world oil price to retaliate against US sanctions.