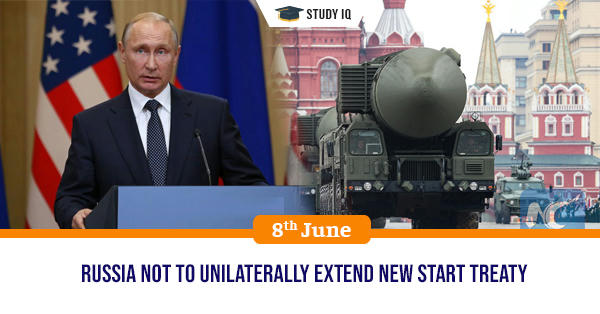 Russia not to unilaterally extend New START treaty
Date: 08 June 2019
Tags: International Events, International Politics
Russian President Vladimir Putin has announced Russia was prepared to drop New Strategic Arms Reduction Treaty (New START) with the US. He said that Russia will not unilaterally extend New START with US as President Donald Trump administration has showed no genuine interest in conducting talks on extending the treaty.
Note: If New START falls, it will be second nuclear weapons treaty between US and Russia to collapse under leadership of US President Donald Trump. In February 2019, US had unilaterally withdrawn from the 1987 Intermediate-Range Nuclear Forces Treaty (INF), accusing Russia of violating the agreement. Russia then followed the same suit.
New Strategic Arms Reduction Treaty (New START)
It is nuclear arms reduction treaty between signed between United States and Russia. Its formal name is Measures for the Further Reduction and Limitation of Strategic Offensive Arms.

It was signed by US President Barack Obama and Russian counterpart Dmitry Medvedev in Prague in 2010. It had entered into force in February 2011 after ratification. It is expected to last at least until 2021.

It had replaced 1991 START I treaty, which expired December 2009, and superseded 2002 Strategic Offensive Reductions Treaty (SORT), which terminated when New START entered into force

Objective:

It was aimed at capping the number of nuclear warheads of US and Russia well below Cold War limits. Under terms of this treaty, number of strategic nuclear missile launchers were to be reduced by half and new inspection and verification regime was to be established, replacing SORT mechanism.

Significance:

It was first verifiable US-Russia nuclear arms control treaty to take effect since START I in 1994. It continued bipartisan process of verifiably reducing US and Russian strategic nuclear arsenals begun by former Presidents Ronald Reagan and George H.W. Bush.