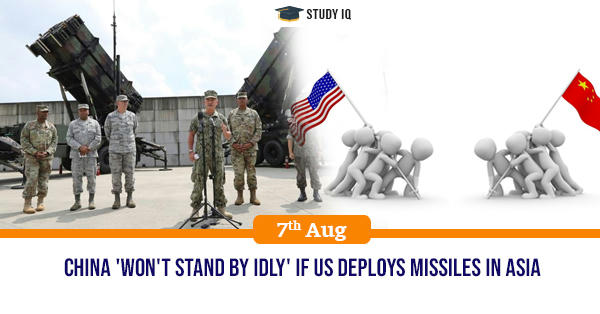 China 'won't stand by idly' if US deploys missiles in Asia
Date: 07 August 2019
Tags: International Politics
Context: China has warned the United States that it would take unspecified countermeasures if Washington goes ahead with plans to deploy ground-based missiles in the Asia Pacific region.
Highlights:
The statement from the Chinese foreign ministry on Tuesday (6/08/2019) comes days after US Defense Secretary Mark Esper said the US was now free to deploy the weapons following its withdrawal last week from the Intermediate-Range Nuclear Forces (INF) treaty with Russia.

The INF treaty

was considered a cornerstone of the global arms control architecture but the US said the bilateral pact had given other countries - namely China - free rein to develop their own long-range missiles.
About the INF treaty:
Under the pact signed in 1987 by then-US president Ronald Reagan and Soviet leader Mikhail Gorbachev, Washington and Moscow agreed to limit the use of conventional and nuclear missiles with a range of 500-5,000km.
Washington withdrew from the INF treaty on Friday (2/08/2019) after accusing Russia of violating it for years.