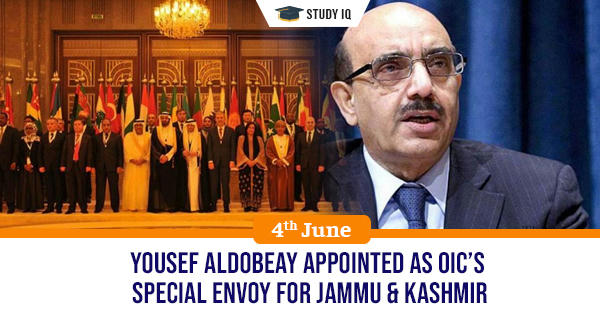 Yousef Aldobeay appointed as OIC's special envoy for Jammu & Kashmir
Date: 04 June 2019
Tags: International Organizations, International Events
Organisation of Islamic Cooperation (OIC) has appointed Saudi Arabia's Yousef Aldobeay as its special envoy for Jammu and Kashmir (J&K). This decision was taken at the 14th Islamic Summit of the OIC held in holy city of Makkah, Saudi Arabia.
Purpose of appointment
OIC held that it fully supports people of J&K's achievement of their legitimate rights. It also called upon India to hold referendum in J&K under United Nations' patronage.
No support of all OIC countries
The decision to appoint special envoy for Kashmir issue was primarily decision of few countries of OIC contact group on Kashmir and not all OIC members were party to the decision and maintained neutral stance on the issue. Some of the key OIC member states across continents have not been in favour of a strong position on Kashmir.
Why this decision was taken?
It is believed that complicated political situation in West Asia, particularly tensions between Saudi Arabia and Iran coupled with dependence of some key nations in the region on Pakistan Army against Houthis and Iran, may have prompted OIC to appoint a special envoy for Kashmir.

The developments came within three months of the OIC foreign ministers' meet in UAE where India for first time was invited as guest of honour for the plenary session. On that occasion,

Pakistan had tried to use every session to defame India but had failed to get Kashmir issue mentioned in the final joint declaration as the hosts and Saudi Arabia ensured that the guest (India) was not embarrassed.

However, it is believed that role of Pakistan Army in support of Gulf states amid tensions with Iran may have played role in the decision to appoint special envoy in response to Pakistan Government's request for such a post.
India's position
Union Ministry of External Affairs' (MEA) spokesperson held that OIC has no locus standi in matters relating to state of J&K, which is an integral part of India.

It is reiterated that OIC should refrain from making such unwarranted references. India categorically rejects yet another unacceptable reference to matters internal to India in Final Communiqe adopted at conclusion of the 14th Islamic Summit of OIC member states held at Makkah, Saudi Arabia.
About Organisation of Islamic Cooperation (OIC)
It is international organization that aims to provide collective voice to Muslim world and safeguard and protect interests of Muslim world in the spirit of promoting international peace and harmony.

It was established in 1969. It has administrative centre (headquarters/ Secretariat) in Jeddah, Saudi Arabia. It is second largest inter-governmental organization after United Nations.

It consists of 56 member states spread over four continents with collective population of over 1.3 billion as of 2009 with 47 countries being Muslim Majority countries. It has five observer states.

It has permanent delegations to UN and European Union. Its official languages are Arabic, English, and French.

Issues with India:

Over the past few decades, India had, at best, prickly relationship with OIC, largely because Pakistan frequently used this grouping to target India on Kashmir issue. OIC on behest of Pakistan regarded parts of Kashmir as "occupied by India".

India was blocked country, though it is third largest country (after Indonesia and Pakistan) in terms of Muslim population (It has about 12% of world's Muslim population).

OIC was seen as pro Pakistan and its allies in Arab world have also had blocked attempts to give observer status to India.