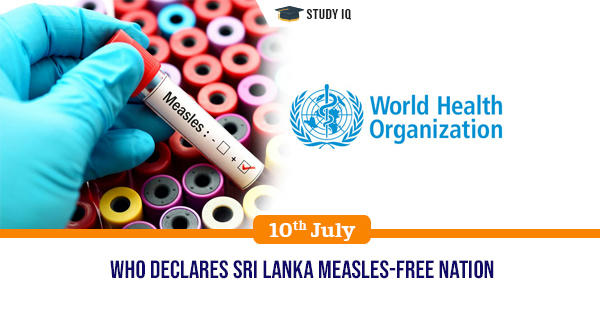 WHO declares Sri Lanka measles-free nation
Date: 10 July 2019
Tags: International Events
World Health Organisation (WHO) declared that measles disease has been eradicated in the island nation of Sri Lanka. Sri Lanka is fifth country in WHO southeast Asia region to eliminate measles. The other countries in region to achieve this feat are Bhutan, Maldives, South Korea and Timor-Leste.
The elimination of disease means that there have been zero new cases of the disease in the last three years. Sri Lanka had reported its last case of measles caused by an indigenous virus in May 2016. Its elimination of measles comes year after it achieved rubella control. Rubella control is achieved when a country reduces the number of rubella cases by 95% as compared to cases in 2008. Sri Lanka's achievement comes at time when measles cases are increasing globally,
About Measles
It is a highly contagious airborne viral disease transmitted orally, through mucus or saliva.

Transmission:

It mainly affects children and can be spread rapidly through the air due to sneezing or a cough, making it is highly infectious airborne disease. The virus can live for up to two hours in air or on nearby surfaces.

Symptoms:

It begins with high fever, and several days later characteristic red rash appears on the face and then spreads over the body. Later it, causes debilitating or fatal complications, including encephalitis, severe diarrhoea and dehydration, pneumonia, ear infections and permanent vision loss. Most patients affected by it recover within three weeks.

Fatality:

Most of those infected with this disease and who die are less than five years old. Annually Measles affects about 20 million people across the world and primarily in the developing areas of Asia and Africa.

Prevention:

It is easily preventable by routine measles vaccination for children, combined with mass immunization campaigns in countries with low routine coverage.

India's Progress:

India is still far from achieving this milestone. According to latest Global Measles and Rubella Update, India had 56,399 confirmed measles cases and 1,066 confirmed rubella cases in 2018.