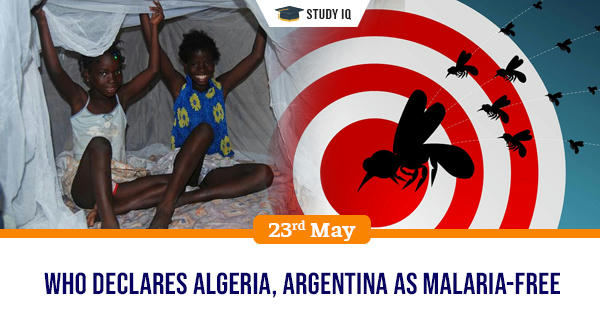 WHO declares Algeria, Argentina as malaria-free
Date: 23 May 2019
Tags: International Events
The World Health Organization (WHO) has officially declared Algeria and Argentina as malaria-free countries after no cases of indigenous transmission of disease were recorded. The certificates were presented on sidelines of the 72nd session of the World Health Assembly.
Criteria for WHO malaria-free certification
Country has to prove that it has interrupted indigenous transmission of malaria for at least three consecutive years. So far total of 36 countries have received malaria free certification from WHO.
The last case of indigenous malaria reported from Algeria was in 2013 and fro, Argentina in 2010. With this, Algeria became second African country to be declared malaria-free, after Mauritius (certified in 1973). Argentina is second country in South America to be certified malaria after Paraguay (June 2018).
About Malaria
It is mosquito-borne infectious disease most commonly transmitted through the bite of infected female Anopheles mosquito.

It caused by parasitic protozoans (a group of single-celled microorganisms) belonging to Plasmodium type.

Its initial symptoms include fever, headache and chills which are difficult to detect as malaria. If these symptoms are not treated within 24 hours, they can lead to serious illness and death.

Children suffering from malaria may develop severe anaemia, respiratory distress or cerebral malaria. Adults who have malaria could experience multi-organ failure.

Prevention and Treatment

: Early diagnosis and treatment is the best way to curb spread of this disease.
Background
According to WHO's World malaria report 2018, Malaria remains one of world's leading killers. In 2017, it accounted for estimated 219 million cases from 87 countries and over 400,000 deaths. Over 60% of fatalities were among children under 5 years and had caused 266,000 deaths worldwide.
Africa had highest share of the global malaria burden in 2017, accounting for 92% of malaria cases and 93% of malaria deaths. Four countries in Africa accounted for nearly half of all malaria cases worldwide: Nigeria (25%), Democratic Republic of Congo (11%), Mozambique (5%), and Uganda (4%).