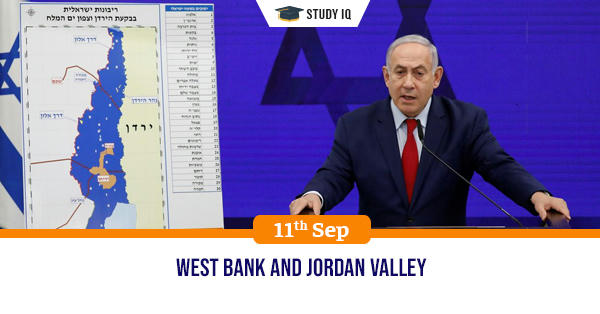 West Bank and Jordan Valley
Date: 11 September 2019
Tags: International Events
Issue
Israeli Prime Minister Benjamin Netanyahu issued a deeply controversial pledge to annex the Jordan Valley in the occupied West Bank if re-elected in September 17 polls.
Background
Israel occupied the West Bank in the 1967 Six-Day War in a move never recognised by the international community.The Israeli settlements there are considered illegal under international law and this is a major impediment in peace process as Palestenians consider these areas as part of their future state.
Details
The Jordan Valley accounts for around one-third of the West Bank and Israeli right-wing politicians have long viewed the strategic area as a part of the territory , seeing it as the country's eastern border.

Israeli settlements are located in a place called Area C of the West Bank, which accounts for some 60% of the territory, including the vast majority of the Jordan Valley.
West bank
The West Bank is a landlocked territory near the Mediterranean coast of Western Asia, bordered by Jordan to the east and by the Green Line separating it and Israel on the south, west and north.
Implications
The chances of two state solution will die down if any hasty decisions are carried out. The area will be pushed forever into unrest.
Two state solution
The two-state solution to the Israeli–Palestinian which foresees an independent State of Palestine alongside the State of Israel, west of the Jordan River.