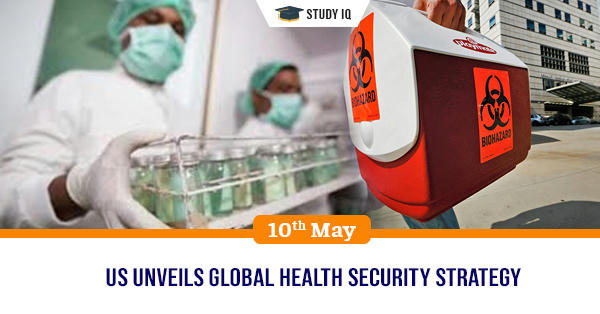 US unveils Global Health Security Strategy
Date: 10 May 2019
Tags: International Events
United States unveiled its first of its kind Global Health Security Strategy aimed at preventing, detecting and responding to biological threats from infectious diseases occurring naturally or accidentally. It specifically identifies combatting biological threats and pandemics as cornerstone of national security. It also seeks to help improve world's ability to stop deadly outbreaks before they spread between countries.
US's Global Health Security Strategy
It considers biological threats, like infectious disease outbreaks, are a national security priority for the United States government.

It defines the actions administration will take by adopting a whole-of-government approach to health security and leveraging the strengths of different federal departments.

It outlines coordinated US approach that focuses on three interrelated goals: strengthen partner country global health security capacities, increase international support for global health security and a homeland prepared and resilient against global health threats.

Under it, US-Centre for Disease Control (CDC) will increase its ability to monitor threats globally and provide rapid response through deployment of staff across. For this, CDC has developed Global Emergency Alert and Response Service.
US and International Partners
Under it, US will work with international partners to help improve world's ability to stop and contain infectious disease outbreaks before they spread between countries. It will help to improve their performance in priority areas. US will also encourage countries to strengthen their technical capacities and support select partner countries in areas such as emergency preparedness and disease surveillance. It will work to ensure that every partner country has plan to achieve self-reliance in critical area of health security.