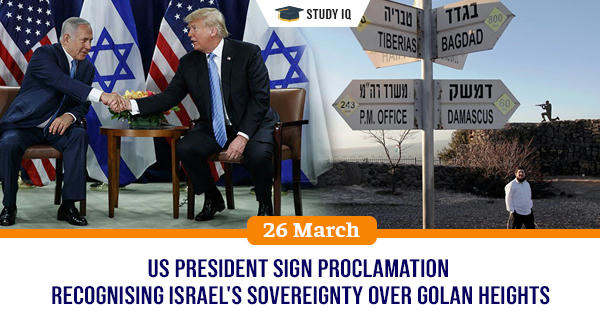 US President sign proclamation recognising Israel's sovereignty over Golan Heights
Date: 26 March 2019
Tags: International Events
United States (US) President Donald Trump has signed proclamation recognising Israel's sovereignty over the Golan Heights. It was signed during Israeli Prime Minister, Benjamin Netanyahu visit to US.
This marks reversal of decades of US policy, which has refused to condone Israeli occupation of Golan and urged that dispute must be resolved diplomatically.
This may create new wave of tensions in West Asia following the decision by US to recognise Israeli sovereignty over disputed Golan Heights, which are claimed by Syria. Besides, it ignores all international procedures. Syrian government has criticized the move calling it blatant attack on its sovereignty and has vowed to take back the Israeli-occupied Golan Heights
Earlier, US President Donald Trump had also recognised disputed city of Jerusalem as Israel's capital and moved US Embassy there from Tel Aviv and stopped aid to Palestinian refugees.
Golan Heights
It is fertile plateau of around 1,300 sq km area bordered by Yarmouk River in south, Sea of Galilee and Hula Valley in west, Mount Hermon in north and Wadi Raqqad in the east
It was captured by Israel from Syria during Six-Day War of 1967, and ever since it is under its control. In 1981, Israel parliament (Knesset) had passed Golan Heights Law, which extended Israel's "laws, jurisdiction and administration" to the area.
However, Israel's sovereignty over territory is not recognized by international community. Even, UNSC resolution has declared imposition of Israel's law "in the occupied Syrian Golan Heights as null and void and without international legal effect.
Israel argues that Golan is security buffer against war in Syria. Israeli and Syrian armies are separated by 400 sq km demilitarized zone which neither side can enter. United Nations Disengagement Observer Force (UNDOF) and UN Truce Supervision Organisation (UNTSO) have camps and posts in the area.