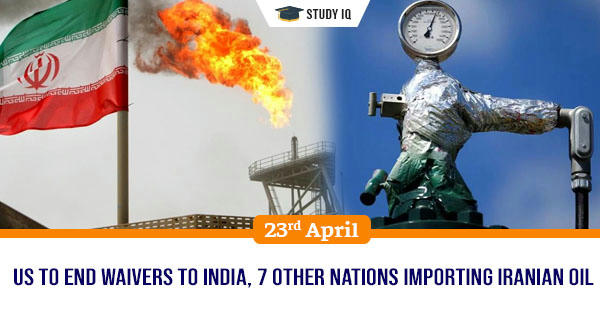 US to end waivers to India, 7 other nations importing Iranian oil
Date: 23 April 2019
Tags: International Events
United States (US) announced it will not renew six months sanction exemptions (known as Significant Reduction Exceptions (SREs)) granted to eight countries including India for importing oil from Iran.
Purpose
This decision of US to eliminate all SREs is aimed at achieving its national security objectives and pressurize Iran on complete denuclearization by squeezing Iran's top export i.e. oil to zero and denying it its principal source of revenue. It also follows the designation of Islamic Revolutionary Guard Corps as Foreign Terrorist Organization, another step towards putting pressure on Iran.
Background
US had re-imposed sanctions on Iran (kicked-in from November 2018) after it had withdrawn from Joint Comprehensive Plan of Action (JCPOA) or P5+1-Iran nuclear deal in May 2019. These sanctions mainly were re-triggering of sanctions imposed prior to nuclear deal. They were aimed at targeting Iran's oil exports and energy sectorm ability to purchase US Dollar notes & Trade in metals, besides other currency transactions. However, US had granted exemptions dubbed as Significant Reduction Exceptions (SREs) from its sanctions for importing oil from Iran for 180-day period (to expire on May 2, 2019) for India and seven other countries (namely Japan, South Korea, Turkey, Italy, China, Greece and Taiwan). The SREs were granted after these countries had made "significant reductions" in oil imports from Iran.
Impact on India
India is the world's third-largest consumer of oil, with 85% of its crude oil and 34% of its natural gas requirements being fulfilled by imports. In 2016, India imported 215 million tonnes of crude oil and at 13%, Iran stood third among India's biggest oil suppliers, after Saudi Arabia and Iraq at 18% each.
India is currently second biggest buyer of Iranian oil after China. But during six months exemption period, India was pushed by US to restrict its monthly crude oil purchase from Iran to 1.25 million tonnes in year (300,000 barrels per day) down from 22.6 million tonnes (452,000 barrels per day) bought in 2017-18 financial year.
Now pushed back on zero oil imports from Iran, it will have adverse impact on India's economy as it will result in rise in price of crude oil in global market. It will hurt India's economy because crude accounts for significant portion of India's overall imports. If crude rises further, it will have impact the stability of the rupee and may also produce inflationary effect.