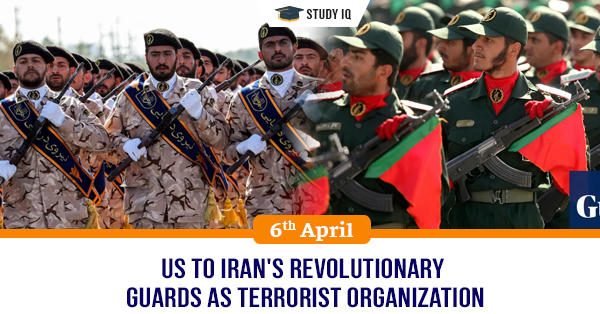 US to recognise Iran's Revolutionary Guards as terrorist organization
Date: 06 April 2019
Tags: International Events
United States (US) Government is planning to designate Iran's Revolutionary Guards Corps (IRGC) as a foreign terrorist organization. It will be for first time US will formally declared another country's military as a terrorist group. Its announcement will come ahead of the first anniversary of US President Donald Trump's decision to pull out of 2015 nuclear deal with Iran (Joint Comprehensive Plan of Action) and to reimpose sanctions that had crippled Iran's economy.
Iran's response
Iran has warned of "crushing" response after US go ahead with the designation. IRGC commander in 2017 had warned that if US President goes ahead with the move then IRGC will consider US army to be like Islamic State all around the world.
Criticism
Critics have warned that this could open US military and intelligence officials to similar actions by unfriendly governments abroad. It also threatens regional stability in West Asia and threatens US forces, particularly placed in places such as Iraq, where Iran-aligned Shia militia are located in close proximity to US troops.
Background
US has already blacklisted dozens of entities and people for affiliations with the IRGC, but the organization as a whole is not. In 2007, US Treasury had designated IRGC's Quds Force, its unit in charge of operations abroad for its support of terrorism and has described it as Iran's primary arm for executing its policy of supporting terrorist and insurgent groups.
Iran's Revolutionary Guards Corps (IRGC)
It was set up after 1979 Islamic Revolution to protect Shiite clerical ruling system. It is Iran's most powerful security organization.

It has control over large sectors of Iranian economy and has huge influence in its political system.

It has estimated 125,000-strong military with army, navy and air units and answers to Iran's Supreme Leader Ayatollah Ali Khamenei.

It is in charge of Iran's ballistic missiles and nuclear programs. It armory has missiles with range of up to 2,000 km that can target Israel and US military bases in the region.