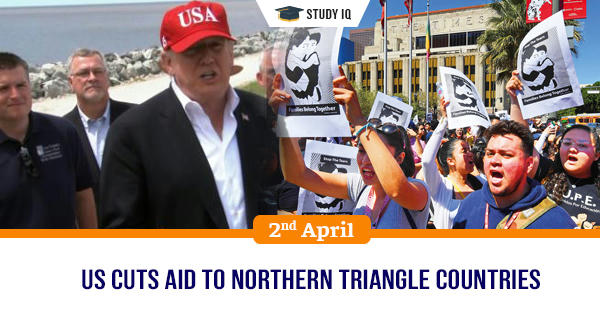 US cuts aid to Northern Triangle countries
Date: 02 April 2019
Tags: International Events
United States (US) Government under administration of President Donald Trump has decided to cut aid to three countries of Northern Triangle- El Salvador, Guatemala and Honduras. These coutries are origin point for current unprecedented wave of family migration (Caravan migration) to US. It is estimated around $700 million in aid will be affected by this cutoff.
Reasons for aid cut
US has blamed these three Central American countries for sending migrants to the IS. These three countries are origin point for current unprecedented wave of family migration to US from Central America. Most migrants and asylum seekers to US's southern border are from these countries.
It is also in-line with US President's anti-migration rhetoric which was highly polarized during 2016 Presidential elections. During his election campaigns, Trump had vowed t to stop illegal migration from Mexico border as it causes lots of problems, drugs and crime in US.
Northern Triangle
It refers to the three Central American countries of Guatemala, El Salvador and Honduras especially in regard to their economic integration.
These countries share aspects of classical cultures, history, society, and politics. They also share border tri-point at Trifinio biosphere reserve. and also
They have signed trade agreements as collective group with Colombia, United States, and Mexico.
Currently, it is most dangerous region in world outside of official war zone and it is mainly due to violence perpetuated by criminal gangs as well as security forces. This region also faces increasing economic inequality and poverty.