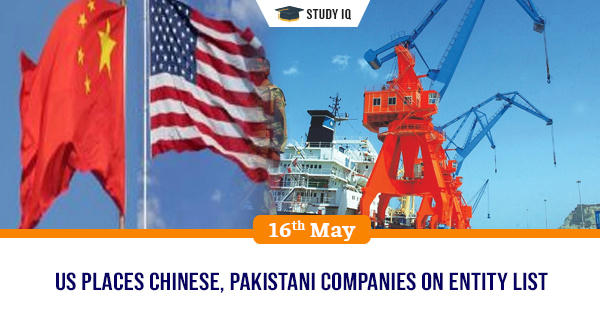 US places Chinese, Pakistani companies on entity list
Date: 16 May 2019
Tags: International Events
United States (US) has placed 12 foreign companies, including several entities from China and Pakistan in its entity list to ensure that sensitive technologies do not fall into wrong hands that will threaten its national security. The 12 entities that have blacklisted by US include four companies with locations in both China and Hong Kong along with two Chinese, one Pakistani and five Emirati persons.
Reasons for addition in Entity list
Four new entities located in China and Hong Kong attempted to procure US origin commodities to support Iran's nuclear programme, in violation of US export controls.

The two blacklisted Chinese entities participated in prohibited export of controlled technology and supplied it to organisations affiliated with People's Liberation Army (PLA).

Pakistani company was included in list for attempting to procure controlled technology on behalf of country's unsafeguarded nuclear activities.
Entity List
It is list of names of certain foreign persons, including businesses, government and private organizations, research institutions, individuals, and other types of legal persons that are subjected to specific license requirements for export, re-export or transfer (in-country) of specified items. It is maintained by Export Administration Regulations (EAR) of US. Persons placed on Entity List are subjected to licensing requirements and policies supplemental to those found elsewhere in EAR.