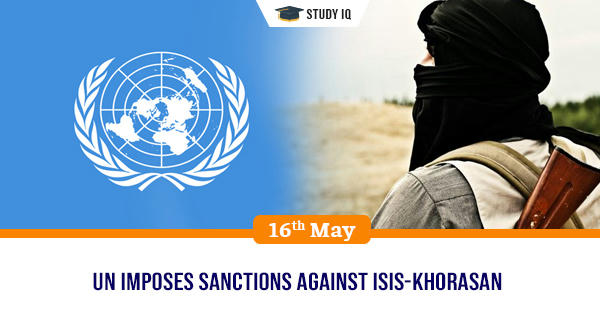 UN imposes sanctions against ISIS-Khorasan
Date: 16 May 2019
Tags: International Events
United Nations Security Council's 1267 Al Qaeda Sanctions Committee has imposed sanctions on terror group ISIS-Khorasan (ISIS-K) for its links with Al-Qaeda and involvement in several attacks in Afghanistan and Pakistan. It is South Asia branch of Islamic State (ISIS).
It was listed for being associated with ISIS or al-Qaida and for participating in financing, planning, facilitating, preparing or perpetrating acts or activities by supplying, selling or transferring arms and related material. It will now be subject to assets being frozen, travel ban and arms embargo.
ISIS-Khorasan (ISIS-K)
It is also known as Islamic State in Iraq and Levant - Khorasan (ISIL-K), ISIS South Asia Branch, Islamic State's Khorasan Province and South Asian Chapter of ISIL.

It was established in 2015 by a Pakistani national and former commander of Tehrik-e-Taliban Pakistan and former Taliban faction commanders who swore oath of allegiance to ISIS and its leader Abu Bakr al-Baghdadi.

It has claimed responsibility for numerous attacks in both Afghanistan and Pakistan and has killed over 150 people.

It has links with banned terror organisation Al-Qaeda and is engaged in other acts or activities indicating association with al-Qaeda, ISIS, or any cell, affiliate, splinter group of al-Qaeda in Iraq.
UNSC 1267 Sanctions Committee
It was established as al-Qaeda/Taliban sanctions committee through UNSC Resolution 1267 in 1999. It prescribes a sanctions regime against designated terrorists and terrorist groups. It was renamed it as "ISIL (Da'esh) and al-Qaeda Sanctions Committee" (UNSCR/2253) in 2015. The listing of individual terrorist or terror organisation under sanctions committee results in:
Assets freeze:

It mandates all states to freeze without delay funds and other financial assets or economic resources of designated individuals and entities.

Travel ban:

It prevents entry of designated individuals into or transit by all states through their territories.

Arms embargo:

It requires all states to prevent direct or indirect supply, sale and transfer from their territories or by their nationals to designated individuals and entities.

It also includes technical advice, assistance, or training related to military activities under its ambit.