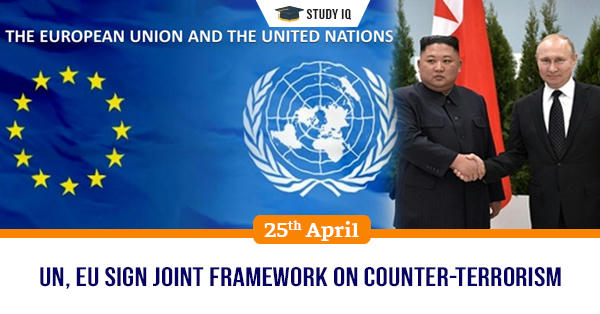 UN, EU sign joint framework on Counter-Terrorism
Date: 25 April 2019
Tags: International Events
United Nations and European Union (EU) have signed joint framework on Counter-Terrorism aimed at strengthening partnership in counter-terrorism efforts. The framework was enacted on occasion of second EU-UN Leader's Dialogue on Counter-Terrorism held in New York.
UN-EU Framework on Counter-Terrorism
It focuses on terrorism and violent extremism prevention in Africa, Middle East, and Asia and also supports victims and promote reintegration of terrorism offenders

It proposes development of national and regional Prevent and Counter Violent Extremism (PCVE) action plans for promoting youth engagement and gender perspectives.

It ensures support to victims of terrorism and evolving threat of foreign terrorist fighters through establishment of Advanced Passenger Information/Passenger Name Records (API/PNR) systems.

It encourages joint, effective and multilateral cooperation to improve safety of citizens in Europe and around globe and also strengthening respect for human rights and the rule of law.