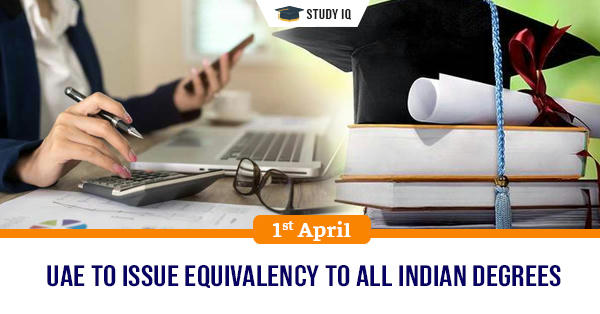 UAE to issue equivalency to all Indian degrees
Date: 01 April 2019
Tags: International Events
United Arab Emirates (UAE) Ministry of Education has agreed to issue equivalency for all Indian degrees both academic and professional that match set criteria. The decision comes as huge relief to the Indian expats who are living and struggling to get equivalence for their degrees and job in the gulf nation.
Background
Equivalency of Indian degrees is mandatory for Indians to work in the UAE. Earlier UAE had rejected equivalency of some Indian degrees due to lack of clarity over both internal/external mark sheets by some of India universities as part of their degrees. This had created considerable difficulty for those seeking jobs in the nation and even for some teachers who were already working there, leading them to approach the Indian embassy for help.
Revived Decision of UAE Education Ministry
It comes after Indian side issued clarification on the issue of the external and internal marks mentioned in mark lists.

It had reviewed information provided to it through 'by University Grant Commission (UGC) under 'Action Plan for Academic and Administrative Reforms'.

This action plan has clarified that word "external" in some of Indian mark sheets reflect method of evaluation and not place of study.

It also has notified that it has no objection to equivalency of those degrees that meets all other certificate equivalency criteria.

It also announced that applications which were rejected earlier will now be reviewed and equivalency letters will be issued after meeting all other certificate equivalency conditions.