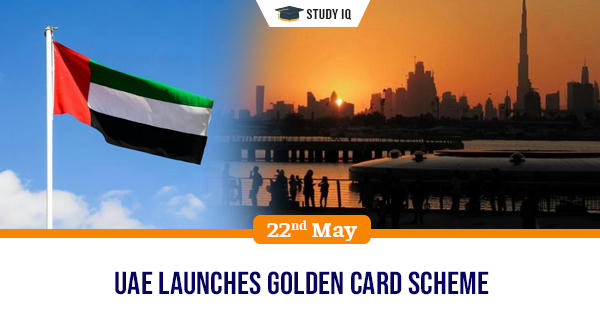 UAE launches Golden Card scheme
Date: 22 May 2019
Tags: International Events
The United Arab Emirates (UAE) has launched 'Golden Card' scheme. It is permanent residency scheme aimed at wooing wealthy individuals and exceptional talents in the gulf state. Under it, first group of 6,800 investors from over 70 countries with investments totaling 100 billion dirhams (US $27 billion) already have given permanent residency.
Golden Card scheme
It offers unprecedented benefits to cardholders and their families while creating an attractive environment for business and growth.

It is open to investors and "exceptional talents" such as doctors, engineers, scientists, students and artists.

Purpose of scheme:

It seeks to attract greater foreign investment and stimulate local economy, making it more efficient and attractive for investors. It also seeks to increase UAE's competitiveness and reaffirms the country's position as a global incubator.

Golden Card visa categories

: It include general investors who will be granted 10-year visa, real estate investors, who can get visa for five years, along with entrepreneurs and talented professionals such as doctors, researchers and innovators 10 years. It also includes category for outstanding students, who will also be permitted residency visas for five years. In these all categories of visas, can be renewed upon expiry.
Impact on India
This residency scheme will attract more Indian professionals and businessmen to the Gulf nation. The Indian expatriate community is reportedly largest ethnic community in the UAE, constituting roughly about 30% of the country's population of around nine million. Though most of the Indians living in the UAE are employed, about 10% of the Indian population constitutes dependent family members. It will result in diversion of wealth, talent from India to UAE.