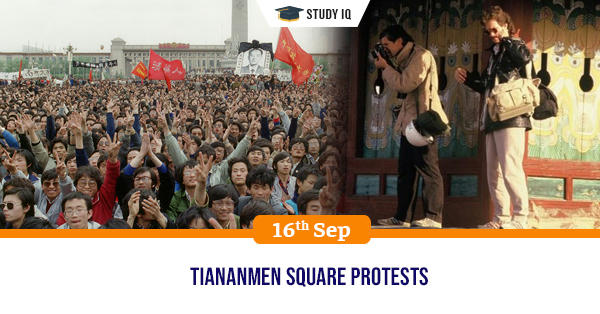 Tiananmen Square Protests
Date: 16 September 2019
Tags: International Events
Issue
Charlie Cole, one of the photographers who captured the famous Tank Man on film during the Tiananmen Square protests in 1989, has died aged 64.
Background
Tiananmen square protest and the photo depicting a man blocking convoy of military tank has been the defining image of the pro-democracy protest held in China in 1980's.The photographer won the 1990 World Press Photo award for his picture.
The Tiananmen Square protests
The Tiananmen Square protests, commonly known in mainland China as the June Fourth Incident ,were student-led demonstrations held in Tiananmen Square in Beijing during 1989.

The popular national movement inspired by the Beijing protests is sometimes called the '89 Democracy Movement .

The protests started on April 15 and were forcibly suppressed on June 4 when the government declared martial law and sent the military to occupy central parts of Beijing, in what became known as the Tiananmen Square Massacre.

Amid the backdrop of rapid economic development and social changes in post-Mao China, the protests reflected anxieties about the country's future in the popular consciousness and among the political elite.
Goals of the protest
The students called for greater accountability, constitutional due process, democracy, freedom of the press, and freedom of speech, although they were highly disorganized and their goals varied.
Implications of the protest
The suppression halted the policies of liberalization in the 1980s. The protests are considered a watershed event and set the limits on political expression in China up to the present day.

Its memory is widely associated with questioning the legitimacy of Communist Party rule and remains one of the most sensitive and most widely censored topics in China.