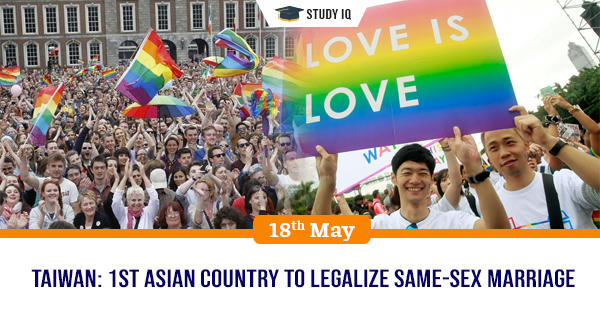 Taiwan: 1st Asian country to legalize Same-Sex Marriage
Date: 18 May 2019
Tags: International Events
Taiwan's parliament has passed bill legalize same-sex marriage. It makes Taiwan first country in Asia to legalise same sex marriage. Now the Bill will require Presidential assent to become full fledge law.
Features of the Bill
It allows same-sex couples to form 'exclusive permanent unions'. It also provides legal backing for them to apply for a 'marriage registration' with government agencies. It also includes provisions for limited adoption rights. It has some provisions for some tax and insurance benefits to same-sex married couples.
Background
In 2017, Taiwan's Constitutional Court had ruled that same-sex couples had right to legally marry. It had given Parliament two-year deadline to incorporate changes by amending its laws, or same-sex marriage will automatically go into effect by May 24, 2019. But the debate over same-sex marriage was deeply contentious issues in both in parliament and in the public, In November 2018, Taiwanese voters had overwhelmingly rejected same-sex marriage in a referendum. However, the referendum was nonbinding and did not change Constitutional Court's ruling.
Note: Australia and New Zealand are the only two countries in wider Asia-Pacific region that have legalized same sex marriages by passing laws. Vietnam decriminalised gay marriage celebrations in 2015. It is still illegal in China but homosexuality was decriminalised in 1997 and officially removed from its list of mental illnesses in 2000. Most recently in April 2019, Brunei had announced strict new Islamic laws that mage gay sex and adultery offences punishable by stoning to death. Elsewhere in Asia, laws are changing wrt to same sex marriages, reflecting more tolerant attitudes towards LGBT groups.
Indian Scenario: Supreme Court in September 2018 had ruled that consensual gay sex is no longer criminal offence under IPC section 377.