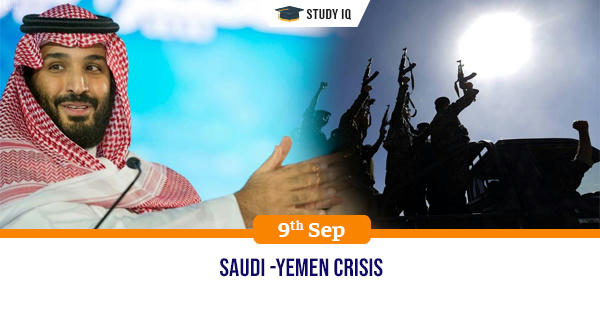 Saudi -Yemen crisis
Date: 09 September 2019
Tags: International Events
Issue
Saudi led coalition is on the blink of backing off from Yemen as the 4 year war on the Houthi rebels has not resulted in change in ground reality.
Background
Saudi -led coalition had launched the Yemen offensive in March 2015, their common goal was to defeat the Shia Houthi rebels, who had captured the capital Sana'a. They are not even close to meeting this goal, and there are growing frictions within the anti-Houthi coalition.
Details
The crown prince of Saudi, who was behind this decision, considered Yemen to be a cakewalk for the Saudi troops. The Houthis lacked real battleground experience and were considered nothing against Saudi Military Forces.

The Saudis also enjoyed the support of the U.S, and had a coalition of Sunni Muslim countries backing them. The plan was to oust the Houthis quickly and restore a cherry-picked administration who would change their country's policies to suit Saudi's interests.

The Saudi coalition was weak on the ground and the former Yemeni President Ali Abdullah Saleh and the troops loyal to him joined hands with the Houthis in a tactical alliance. This changed the ground situation quickly.

The Houthis received support from Saudi's arch adversary, Iran. They did not just prevent Sana'a from being recaptured, but also started attacking Saudi Arabia with short-range missiles and drones.

This created a big dilema for the Saudi alliance, which had its tasks multiplied. It had to recapture Yemeni capital from Houthis, protect their borders from attacks and also defeat Iran on international platform.
Current situation
The Yemeni government, backed by Saudi, is headquartered in the southern port city of Aden and is practically operating from Saudi Arabia where the Yemeni President is residing.

There are three power centres and multiple militias in today's Yemen: The Houthis, who control Sana'a and the northern towns, the southern separatists who are strong in and around Aden, and the internationally recognised government that is run from Saudi Arabia.
Way ahead
The U.S. has signalled that it will facilitate talks among the multiple factions in Yemen through Oman, a neutral player.

Prolonging the war is also not an option. Having no credible ally on the ground and no effective strategy to turn around the war, Saudi must realise that they have lost the war and need to back out as soon as possible.