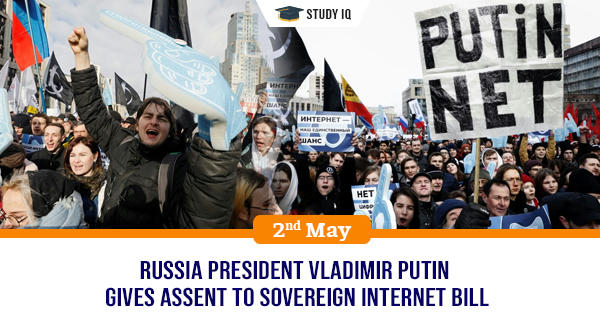 Russia President Vladimir Putin gives assent to sovereign internet bill
Date: 02 May 2019
Tags: International Events
Russia President Vladimir Putin signed into law sovereign internet bill which will allow Russian authorities to isolate or firewall country's internet. The new law is named as The Digital Economy National Programme. Its text was published recently and will come into effect from November 2019. This law seeks to increase cyber security and stability of Russian internet in the event of foreign interference.
Feature of this law
It is aimed at isolating or firewalling Russia's internet (Runet) from rest of the world to ensure it could remain available and secure in event of cyber-attack or other incident.

It mandates that data from Russia organisations and users will remain within Russia, rather than being distributed globally.

It calls for setting up Russian Federal Service for Supervision of Communications, Information Technology and Mass Media (also known as Roskomnadzor) to regulate internet traffic routing. It will steer Russian internet traffic away from foreign servers.

Russian Internet access providers (ISPs) need to ensure that their networks have the technical means for "centralised traffic control" to counter potential threats

It creates system that gives Russian authorities capacity to block access to parts of the Internet in the country. It also introduces internet pre-filtering centres.
Criticism
Critics say that this law aims to restrict information and communication online. It gives new censorship powers to government to monitor its citizens and isolate them from outside world. It also creates system that gives authorities extrajudicial and non-transparen capacity to block access to parts of internet in Russia.