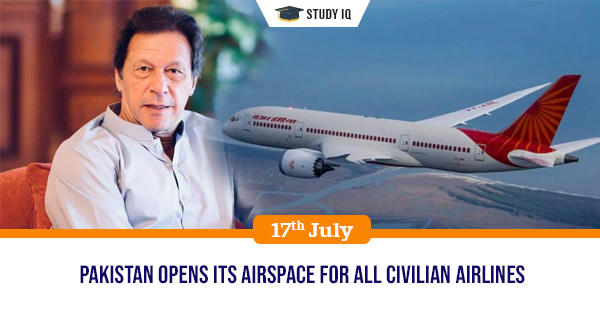 Pakistan opens its airspace for all civilian airlines
Date: 17 July 2019
Tags: International Events
Pakistan has opened its airspace for all civilian airlines for first time since February 26, 2019 Balakot air strike. This decision effectively removes ban on Indian flights that were not allowed to use majority of its airspace since the Balakot airstrikes. In this regard, Pakistan's Civil Aviation Authority has issued a notice to airmen (NOTAM) stating that Pakistan airspace is open for all type of civil traffic with immediate effect on published ATS (air traffic service) routes. The move is expected to result in reduction of flight times by around 70-80 minutes for flights that earlier used Pakistan's airspace for transit.
Background
Pakistan had fully closed its airspace on February 26 in response to non-military counter-terrorism airstrike conducted by Indian Air Force (IAF) against Jaish-e-Mohammed (JeM) terrorist camps in Balakot in retaliation to the Pulwama attack on February 14.
Initially, Pakistan had completely closed its airspace. However, it later relaxed restrictions on overflying country partially. Out of total 11 air routes in Pakistan's territory, it has opened up two since March 2019. One of these is westbound waypoint over Arabian Sea towards Karachi, Hingol, Gwadar, and other one is eastbound over Karachi, Badin into Gujarat, India towards Ahmedabad.
Impact of Ban: The closure of routes affected hundreds of east-west flights flying over the subcontinent and westbound flights from airports in northern India were worst affected. Indian carriers together had lost over Rs 550 crore as restrictions had resulted in longer flight times as they were forced to take a longer route to avoid Pakistan airspace which resulted in higher fuel and operation bills.