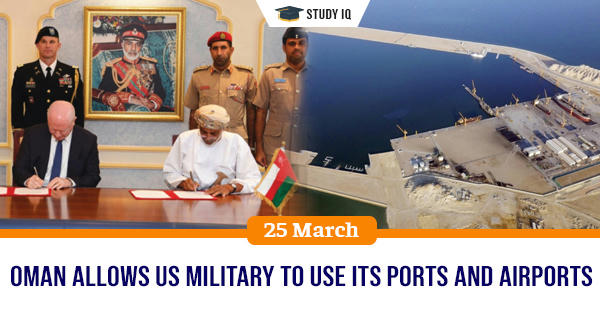 Oman allows US military to use its Ports and airports
Date: 25 March 2019
Tags: International Events
United States (US) has signed framework agreement with Oman that gives its navy and military forces access to two Arabian Sea ports of Duqm and Salalah located near strategic Strait of Hormuz. The framework agreement is aimed at bolstering Omani-American military relations. It will allow US warships, aircraft carriers and greater control over strategic international waterway threatened by Iran. It will allow US forces to take advantage of the facilities offered at some of Oman's ports and airports during visits of US military vessels and aircraft.
Strategic Significance
These two ports- Duqm and Salalah are located in southern Oman on Arabian Sea and around 500 kilometres away from Strait of Hormuz. This strait, a narrow outlet connects oil rich Persian Gulf region with Arabian Sea. It is crucial to global energy supplies as fifth of the world's seaborne oil trade exits Persian Gulf.
Iran, the biggest advisory of US has often threaten to block channel (Strait of Hormuz) in retaliation for US sanctions that are hurting its economy and also during tensions with Sunni-ruled Gulf nations, including its main regional rival Saudi Arabia.
The narrow waterway is also international transit route where American forces routinely pass and has seen tense encounters between them and Iranian forces in the past. US has number of military bases across the Gulf -- the largest in Qatar with about 10,000 troops.
Note: In February 2018 during visit of Prime Minister Narendra Modi to Oman, India had secured access to key strategic Port of Duqm in Oman for military use and logistical support. It was facilitated by signing of Memorandum of Understanding (MoU) on Military Cooperation between India and Oman, which allows services of Duqm port and dry dock for maintenance of Indian naval vessels.