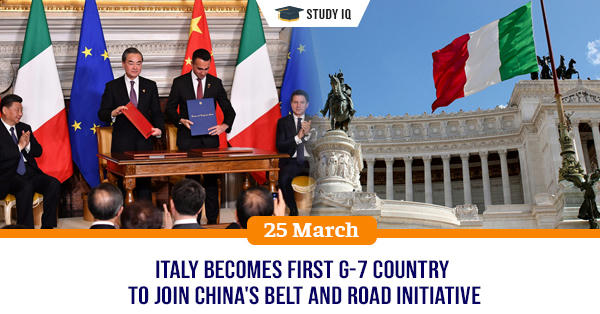 Italy becomes first G-7 country to join China's Belt and Road Initiative
Date: 25 March 2019
Tags: International Organizations, International Events
Italy signed "non-binding" agreement to take part in China's Belt and Road Initiative (BRI), which aims to link China with Europe. With this, Italy became first Group of Seven (G7) major industrialised nations to endorse China's global infrastructure-building scheme inspired by historic, centuries-old silk trade routes. The agreement was signed during official state visit of Chinese President Xi Jinping's visit Italy.
Key Facts
Italy, despite being one of top ten largest economies in world has slipped into recession in 2018 and its national debt levels is the highest in the eurozone. By joining BRI, China will open its market to Italy and also open prospect of new projects for Italian firms. It will help Italy to rebalance its trade deficit with China by substantial and gradual increase in exports to Chinese markets. It will help to address Italy's financial woes strengthen its business and economic ties with China. Besides, China will get access to Italy's northern ports of Trieste and Genoa.
Belt and Road Initiative (BRI)
BRI is China's ambitious development strategy and framework that aims to boost its connectivity and trade with 152 countries and international organisations in Europe, Asia, Middle East, Latin America and Africa.
It was proposed by Chinese President Xi Jinping in 2013. It is basically investment and trade promotion scheme aiming to deepen economic connections between China and rest of the world.
It seeks to enhance regional connectivity. It is part of China's revived 21st century Silk Road diplomacy that seeks to push it to take a bigger role in global affairs as major global power.
Critics of initiative see it as push for Chinese dominance in global affairs with a China-centered trading network. They also consider it is as predatory and it overwhelmingly favours only China and Chinese companies.