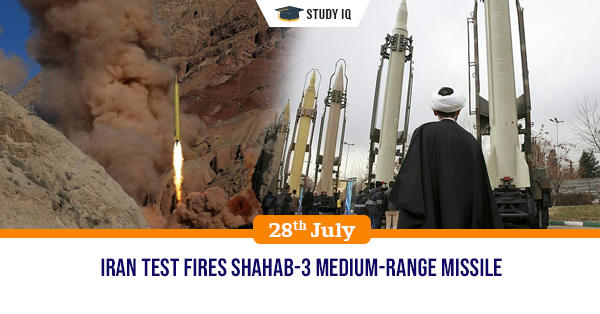 Iran test fires Shahab-3 medium-range missile
Date: 28 July 2019
Tags: International Events
Iran has successfully test fired medium-range ballistic missile named Shahab-3. It was launched from southern Iran and flew some 1,100 kilometers before landing east of capital city Tehran. It is widely believed to be capable of delivering a nuclear warhead.
About Shahab-3
It is single-stage, liquid-fueled, road-mobile, medium-range ballistic missile with range of approximately 1,280 km. It is capable of carrying 1,000-760 kilogram warhead, both conventional as well as nuclear. It is based on the North Korean Nodong-1. Its variant, sometimes called Shahab-4, has a range of more than 1930 km.
Comment
This ballistic missile test comes in wake of recently strained relations between Iran and US. US has held this test in violation of UNSC resolutions. However, Iran claimed that this test was entirely defensive and is not against any country, and only to respond to possible aggression against its territorial integrity.
Background
The relations between Iran and US have strained further recently after US President Donald Trump pulled out US from Joint Comprehensive Plan of Action (JCPOA), an agreement on Iran's nuclear programme in 2018 and stepped up uniteral sanctions on Iran, crippling its economy and oil exports. European signatories have since been trying to save this deal. But, Iran has breached uranium enriching target set in deal.
Why US pullout out of JCPOA? During pulling out, US President had said that it was flawed deal as it does not address Iran's ballistic missile program and does not include curbs on Iran's development of ballistic missiles or its support for proxies in Syria, Yemen, Lebanon and Iraq. US fears Iran could use its missile technology and space program to build nuclear-capable intercontinental ballistic missiles.