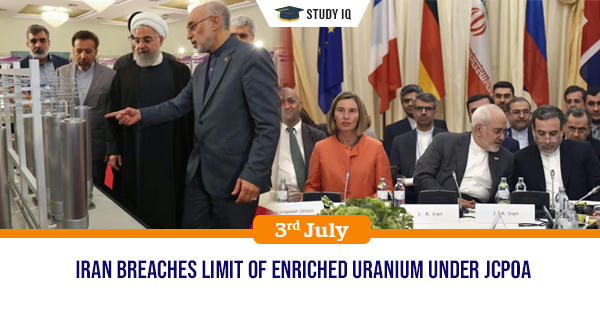 Iran breaches limit of enriched uranium under JCPOA
Date: 03 July 2019
Tags: International Events
United Nations' atomic watchdog International Atomic Energy Agency (IAEA) has confirmed that Iran has breached uranium enrichment limit set out in 2015 Joint Comprehensive Plan of Action (JCPOA). It has exceeded 300-kilogramme limit on its enriched uranium reserves set under this agreement.
This marks first major departure by Iran from nuclear deal it had agreed with world powers (P5+1), a year after US unilaterally withdrew from it and imposed sanctions. European nations had warned that any violation by Iran will bring consequences, and deal allows for re-imposition of multilateral sanctions that were lifted in return for Iran limiting its nuclear activities.
Iran also has threatened it is planning to further increase its enrichment of uranium closer to weapons-grade levels and suspend its other commitments under JCPOA deal unless European powers take practical and tangible steps to implement their new mechanism for facilitating trade and shield Iranian economy from the effects of US sanctions.
About Joint Comprehensive Plan of Action (JCPOA)
It is informally called as 'Iran nuclear deal'. It is multilateral nuclear deal signed between Iran and P5+1 (five permanent members of United Nations Security Council- United States, Russia, China, France, and United Kingdom plus Germany and European Union) in Vienna, Austria in July 2015.

Objective:

It was aimed at preventing Iran from building nuclear weapon, involved lifting of international sanctions in return for Iran curbs its nuclear programme.

Features:

It mandated Iran to drastically reduce its uranium enriching capacity and levels, enriched stockpiles and centrifuges and allow stringent inspection and monitoring by international agencies including International Atomic Energy Agency (IAEA).

In exchange for compliance, multilateral economic sanctions imposed on Iran were removed and allowed Iran to business deals. It also had allowed Iran to access billions of dollars it had overseas before multilateral sanctions were imposed.

Enrichment Limits:

Iran was only permitted to produce low-enriched uranium (LEU), which has a 3-4% concentration of U-235, and can be used to produce fuel for nuclear power plants. It also restricted Iran to stockpiling no more than 300kg of the low-enriched uranium.

Enriching uranium to low level of 3.6% fissile material is first step in process that could eventually allow Iran to amass enough highly-enriched uranium to build a nuclear warhead.
What is enriched uranium?
It is produced by feeding uranium hexafluoride (UF6) gas into centrifuges to separate out the most suitable isotope for nuclear fission, called U-235. Prior to enrichment, uranium ore concentrate must be converted into UF6. Weapons-grade uranium is 90% enriched or more.