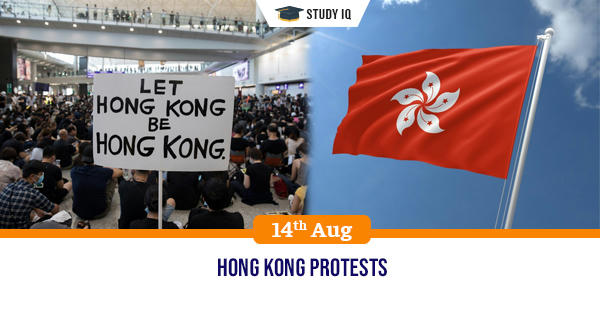 Hong Kong Protests
Date: 14 August 2019
Tags: International Events
Issue
Hong Kong is facing a major political crisis as it heads into a 1oth week of mass demonstrations.
Background
The protest started as a movement against a controversial law has expanded into something much bigger.
Protest started from a million of people marching towards public places and later developed into groups of yellow-hatted demonstrators storming into government headquarters, and now shutting down the city's international airport
Reason for the Protests
Hong Kong is a part of China, but it has its own currency, political system and cultural identity. Many Hong Kong residents don't see themselves as Chinese, but rather as Hong Kong citizens.

The issue goes back to Hong Kong's history as a British colony for period of over 150 years.

British handed it back over to China in 1997. Today, Hong Kong's legal system still mirrors the British model, prizing transparency and due process.

Hong Kong's constitution, the Hong Kong Basic Law, provides various features to its residents. It guarantees freedoms that are unavailable to Chinese mainlanders, such as the right to protest, the right to a free press and freedom of speech.

The Chinese government has provided Hong Kong the right to develop its own democracy, and pledged that the central government in Beijing will not interfere with that.

The Basic Law states that Hong Kong "shall safeguard the rights and freedoms of the residents" for 50 years after the handover. But many claim that mainland China is already starting to encroach on those rights.
Demands of Protestors
The residents are demanding permanent maintenance of status quo of Hong Kong's independent governance structure.

There is widespread demand to reduce Beijing's interference in internal issues of Hong Kong.

When rest of China is already reeling under iron chains on rights imposed by Chinese authorities Hong Kong protest is a small price to pay for larger independence
Consequences of protest
The protestors have targeted public institutions especially Hong Kong's International Airport. The airport is one of the busiest airport in Asia and shutting it down has impacted trade and transport adversely.

The international airport is also a signifies a developing Hong Kong and has been used as a symbol of prosperity and independence. This has also been gaining coverage across the globe.