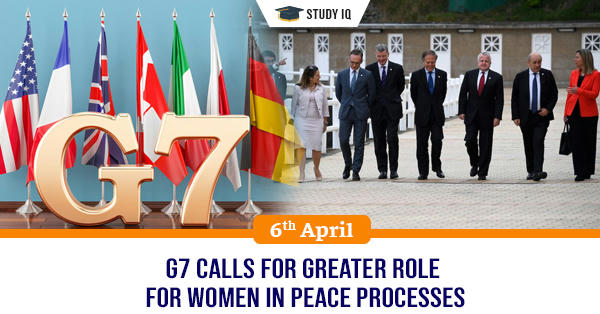 G7 calls for greater role for women in peace processes
Date: 06 April 2019
Tags: International Events
Foreign ministers from Group of Seven (G7) countries have called for greater role for women in solving conflicts. They held that peace settlements with female involvement were more likely to endure. It was reiterated at meeting of G7 Foreign ministers held in northern French resort of Dinard to prepare for leader summit under French presidency in August 2019.
Outcomes of meeting
G7 have agreed "roadmap" to adopt mechanism for greater mobilisation worldwide to prevent sexual and gender-based violence in conflict.

They vowed to enhance coordination to support women's participation in peace processes including in their roles as negotiators, mediators and peacebuilders.

They held that inclusion of women in peace negotiations will be meaningfully as they play influential role in peace processes. Moreover, peace agreements negotiated by them are more likely to last for long term.

The reiterated need for mobilizing international community to prevent sexual and gender-based violence in conflict and also to help survivors and assist children born as result of sexual violence in conflict.
Background
According to UN Women's agency, between 1990 and 2017, women constituted only 2% of mediators, 8% of negotiators, and 5% of witnesses and signatories in all major peace process. France has placed gender inequality at heart of its presidency of G7 summit scheduled to be held in August 2019.
Group of Seven (G7)
It is a group of seven major advanced economies as reported by the International Monetary Fund (IMF). It consists of Canada, France, Germany, Italy, Japan, United Kingdom and United States. European Union is also represented at the G7 summit.
These seven countries collectively represent 58% of global net wealth ($317 trillion), more than 46% of the global gross domestic product (GDP) based on nominal values, and more than 32% global GDP based on purchasing power parity.