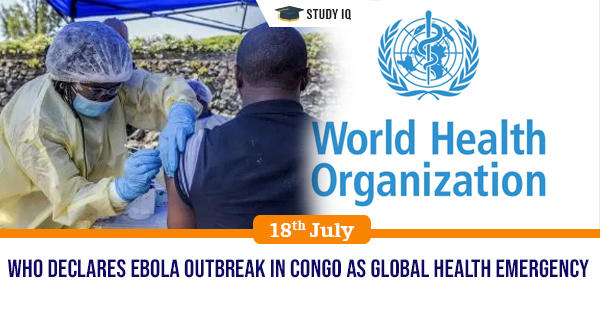 WHO declares Ebola outbreak in Congo as Global Health Emergency
Date: 18 July 2019
Tags: International Events
World Health Organization (WHO) declared Ebola outbreak in Democratic Republic of Congo (DRC) a "Public Health Emergency of International Concern (PHEIC)". This is for fifth time WHO has invoked emergency provision (PHEIC). It was earlier declared in 2009 H1N1 (or swine flu) pandemic, 2014 polio declaration, 2014 outbreak of Ebola in Western Africa and 2015–16 Zika virus epidemic.
Public Health Emergency of International Concern (PHEIC)
It is rare designation only used foe gravest epidemics by WHO. It is the highest level of emergency alarm the WHO can sound.

It is extraordinary event which is determined to constitute public health risk to other States through international spread of disease.

It calls for coordinated international response that needs to be formulated when situation arises that is serious, sudden, unusual or unexpected, which carries implications for public health beyond affected State's national border and requires immediate international action.

Under the 2005 International Health Regulations (IHR) of WHO, States have a legal duty to respond promptly to PHEIC.

Note:

PHEIC is not only confined to infectious diseases and may cover an emergency caused by chemical agent or a radio nuclear material. It is "call to action" and "last resort" measure.
Background
Democratic Republic of Congo (DRC) is in grip of its worst ever Ebola outbreak. According to WHO figures (as of 7 July 2019), there have been over 2,400 confirmed and probable cases of Ebola, of which more than 1,600 people have died. It is the second deadliest Ebola epidemic in history, behind only the 2014 West Africa outbreak. This outbreak in Congo had began in August 2018 and has mainly affected eastern DRC's North Kivu and Ituri provinces– an area wracked by conflict involving various armed groups. Efforts to control virus in DRC are hampered by violence from insurgent groups, including attacks on treatment centres.
About Ebola
It is a deadly viral hemorrhagic fever of humans and other primates caused by Ebola viruses.
Virology of Ebola Virus:

It is a member of family Filoviridae. The family has three members: Genus Ebolavirus Genus Cuevavirus and Genus Marburgvirus. Genus Ebolavirus is further classified into 5 viral species viz. Zaire, Bundibugyo, Sudan, Reston and Tai Forest.

Origin:

It was first identified in 1976 in Democratic Republic of Congo (DRC) in a village near the Ebola River, from which it derives its name

Transmission:

It is transmitted to people from wild animals such as chimpanzees, gorillas, fruit bats and then spreads in human population through human-to-human transmission. Fruit bats of the Pteropodidae family are natural Ebola virus hosts. It spreads through contact with body fluids of inflected persons such as blood, urine and saliva. It also spreads through sexual contact.

Note:

It is mainly transmitted by animal or insect bites or stings, blood products (unclean needles or unscreened blood), saliva (kissing or shared drinks) and touching contaminated surface.

Symptoms and Fatality rate:

High fever, bleeding and central nervous system damage. It progresses to vomiting, diarrhoea and both internal and external bleeding. The average fatality rate is around 50%. In past outbreaks, case fatality rates have varied from 25% to 90% in past outbreaks. Ebola patients tend to die from multiple organ failure and dehydration.

Treatment:

There is as yet no licensed treatment proven to neutralize Ebola virus but range of blood, immunological and drug therapies are under development. Early supportive care with symptomatic treatment and rehydration improves survival chances of patient.

Previous Outbreaks:

The 2014 outbreak of Ebola in Western Africa was worst-ever Ebola outbreak in history. It had killed more than 11,000 people in three West African countries Guinea, Liberia and Sierra Leone.