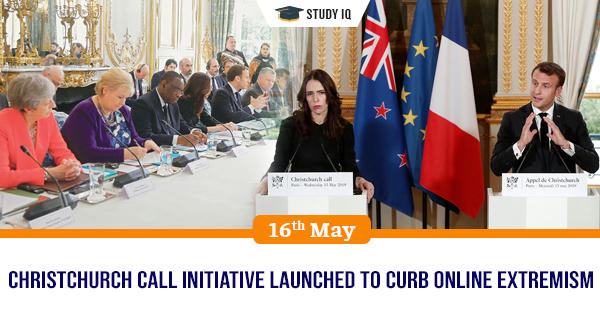 Christchurch Call Initiative launched to curb online extremism
Date: 16 May 2019
Tags: International Events
French President Emmanuel Macron and New Zealand's Prime Minister Jacinda Ardern launched Christchurch Call Initative aimed at stopping abuse of the Internet by extremists. It was launched during Online Extremism Summit in Paris, France. It outlines collective, voluntary commitments from governments, tech companies and internet service providers to address issue of terrorist and violent extremist content online and to prevent abuse of the internet.
Signatories: Total 17 countries including India, France, New Zealand, Canada, Britain, Canada, Ireland, Senegal, Indonesia and Norway etc and European Union. Besides, it also has been signed by tech giants viz. Twitter, Facebook, Google, Mirosoft etc.
Christchurch Call Initiative
It is non-binding set of agreement aimed at to combat terrorism and extremism online and secure the internet.

It is first of its type voluntary document open to both private companies and major governments.

It has been named after New Zealand city Christchurch where 51 people were killed in an attack on mosques.

It asks signatory nations to pledge to eliminate terrorist and violent extremist content on social media and other online platforms.

It asks them to adopt and enforce laws that ban objectionable material and set guidelines on for traditional media on reporting acts of terrorism without amplifying them.

It calls on tech companies to enforce their terms of service and re-evaluate their algorithms that direct users to extremist content by redirecting people looking for extremist material.
Limitations
It does not define violent extremist content. It does not contain any enforcement or regulatory measures and leaves it up to each individual country and company to decide how it will honour its voluntary commitments. Moreover, it is up to individual companies to decide on what constituted objectionable material
Background
The Christchurch attack on mosques in New Zealand on March 15, 2019 had highlighted urgent need for action and enhanced cooperation among wide range of actors with influence over this issue, including governments, civil society, and online service providers, such as social media companies, to eliminate terrorist and violent extremist content online. In this terror attack 51 Muslims were killed while worshipping at two mosques and many more injured. The mass murder was livestreamed from head-mounted camera on Facebook and redistributed hundreds of thousands of times.