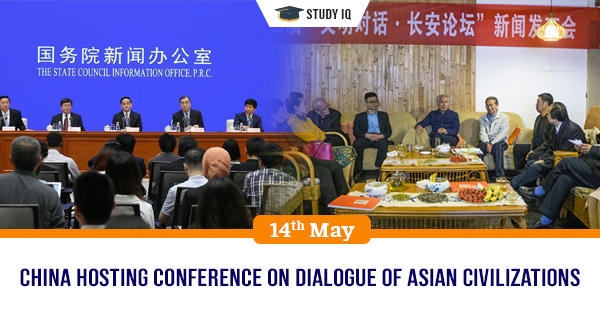 China hosting Conference on Dialogue of Asian Civilizations
Date: 14 May 2019
Tags: International Events
China is hosting Conference on Dialogue of Asian Civilizations in its capital city Beijing form 15 to 22 May, 2019. It will be inaugurated by Chinese President Xi Jinping and also deliver a keynote speech. More than 2000 delegates from 47 Asian and world countries, including government officials, leaders from UNESCO and other international organizations, celebrities, educational institutions, film and television think tanks are participating in it.
About Conference
It will focus on the exchange and mutual learning of Asia civilizations. It aims at boosting regional understanding and enhancing cooperation. It will focus on cultural diversity, exchanges and mutual learning.

It will set into motion dialogue toward sharing experiences on Asian governance and Asian approaches to governance differing from Western one.

It will be convened around three themes viz. Asian wisdom to promote political advancement, Asian community with a shared future and Asian solutions to benefit the people.

Asian civilization tours, cultural exhibitions, tourism fairs and food festivals will be held on the sidelines of this conference.
Background
The idea of this conference was proposed by President Xi Jinping at Conference on Interaction and Confidence Building Measures in Asia held in Shanghai in 2014. It aims at enhancing Asians' rich cultural lives and contribute to vibrant regional development. It seeks to achieve this by providing platform for interactions among young people, local communities and media and form cooperative network among think tanks, such as the Center for China and Globalization. This conference is seen in pursuance of fifth pillar (viz. people-to-people exchanges) of the China's ambitious Belt and Road Initiative (BRI).