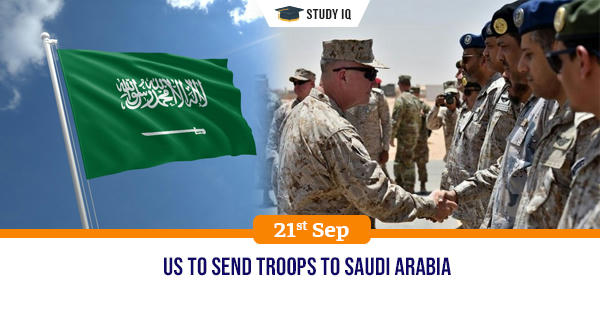 US to send troops to Saudi Arabia
Date: 21 September 2019
Tags: International Events
Issue
The Pentagon has announced that it will deploy additional U.S. troops and missile defense equipment to Saudi Arabia and the United Arab Emirates.
Background
Saudi Arabia suffered the deadliest attack on its oil facilities in recently when a small army of drones attacked two major oil plants, destroying nearly 50 per cent of the country's global supply of crude.
Details
The officials have told that the extra equipment and troops would give the Saudis a better chance of defending against unconventional aerial attacks.

Iran has denied involvement and warned the U.S. that any attack will spark an "all-out war" with immediate retaliation from Tehran.

It is alleged that Iran was responsible for the strikes on Saudi assets as the weapons had Iranian origin.

This is the second time Mr Trump had planned for a retalliatory attacks on Iran after the recent attack by Iran on US drones.