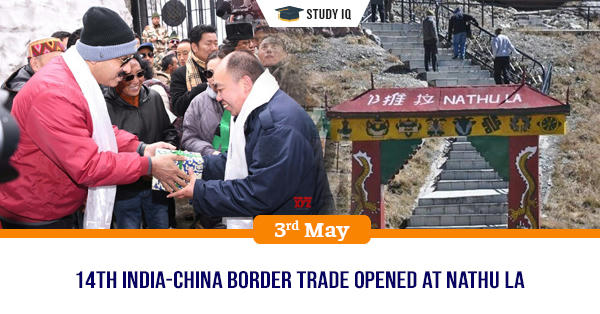 14th India-China border trade opened at Nathu La
Date: 03 May 2019
Tags: International Events
The 14th edition of annual Sino-Indian (India-China) border trade opened at Nathu La in Sikkim. To mark this function was held at Nathu La and was attended by officials and traders of both the countries. With this, Indian and Chinese traders will start tarding across their borders. The three open trading border posts between India and China viz. Nathu La (Sikkim) Shipkila (Himachal Pradesh) and Lipulekh (or Lipulech) in Uttarakhand.
India-China border trade
The bilateral border trade between the two countries at Nathu La is organised four days a week for six months, between May 1 and November 30, every year.

The trade through this passage begins in May and continues till November, after which it is discontinued due to extremely cold and harsh weather conditions.

It was restarted in 2006 after gap of 44 years. Chinese traders come to Sherathang in India near Nathula Pass to sell their items, while Indians trade at Rienchengang in Tibetan Autonomous Region(TAR) of China.

Total 36 items ranging from dairy products to utensils are on India's export list. While, total of 20 items, including carpets, quilts and jackets among others, are in the on import list from the TAR.

Last year, export of goods from India through Nathu La stood at Rs 45.03 crore, while items worth Rs 3.23 crore were imported from the TAR. In 2017, trade through Nathiala had suffered setback due to Doklam crisis.