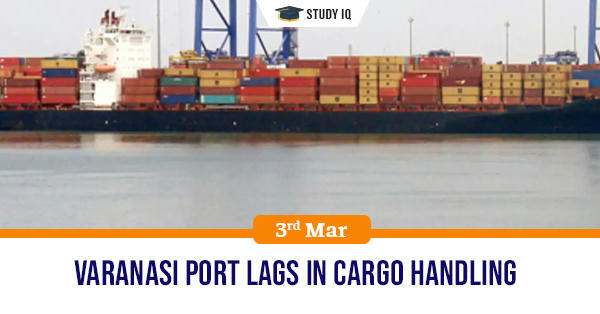 Varanasi port lags in cargo handling
Date: 03 March 2020
Tags: Infrastructure
Issue
The Varanasi multimodal terminal located on the Ganga has handled only 282 metric tonnes of cargo, as per the government's response to an RTI query filed by an NGO. Government estimates had pegged the volume of traffic at the Varanasi terminal at 3.55 million metric tonnes by 2020.
Background
The terminal is part of the Jal Marg Vikas Project (JMVP) for navigation of cargo which stretches from Haldia in West Bengal to Varanasi in Uttar Pradesh under the National Waterway-1. It is a 1,620-km stretch.
Details
The commodity of cargo handled on these terminals are fertilizers, edible oil, food products, stone chips, FMCG products, TMT bar and other steel structures.

Even though the terminals are being completed in record time, Inland Waterways Authority of India is not able to utilise the Varanasi terminal built on huge costs, and land acquisition is ongoing for freight village and phase-II of the same.
Jal Vikas Marg Project
The Project entails development of fairway with 3 meters depth between Varanasi and Haldia (Phase-I) covering a distance of 1380 km at an estimated cost of Rs. 5369 crore with target for completion in six years.

The project entails construction of three multi-modal terminals at Varanasi, Sahibganj and Haldia at a cost of Rs 5,369.18 crore as a joint project between the Union government (Ministry of State for Shipping) and the World Bank.