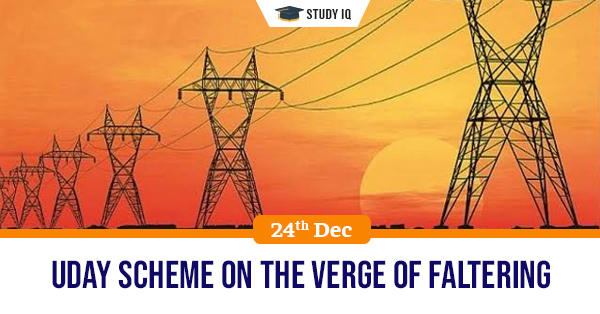 UDAY scheme on the verge of faltering
Date: 24 December 2019
Tags: Infrastructure
Issue
Four years after it was launched, UDAY , the government's flagship reform to revive electricity distribution companies (discoms) is faltering.
Background
Discom losses, which had progressively reduced in the first couple of years since the scheme's rollout in November 2015, have rebounded in FY '19 to nearly double the losses recorded the previous year.
Details
The data points to discoms lagging behind in eliminating the gap between the average cost of supply and realisable revenue (ACS-ARR gap).

Discoms have also missed the FY '19 UDAY target to bring down their aggregate technical and commercial (AT&C) losses to 15 per cent.

The primary reason for failure, as is being recognised in policy circles, is the failure of discoms to collect the full cost that they pay for power.

The broad idea is that in the revised scheme, discoms can only remain in the public sector if they get to a situation where their deficit is under control. Or else, states will be asked to implement different models involving the private sector, like the franchise or PPP models.
UDAY scheme
Ujjwal DISCOM Assurance Yojana (UDAY) is the financial turnaround and revival package for electricity distribution companies of India (DISCOMs) initiated by the Government of India, under Ministry of Power, with the intent to find a permanent solution to the financial mess that the power distribution is in.

It allows state governments, which own the DISCOMs, to take over 75 percent of their debt as of September 30, 2015, and pay back lenders by selling bonds.

DISCOMs are expected to issue bonds for the remaining 25 percent of their debt. The scheme is optional for the states to join. Jharkhand became the first state to come under uday scheme.

The scheme that was aimed as a pointed intervention to the weakest link in electricity value chain, power distribution.