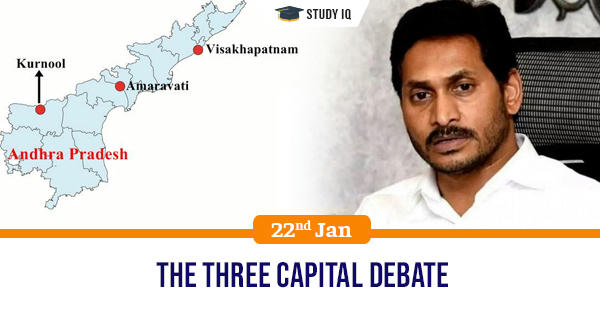 The three capital debate
Date: 22 January 2020
Tags: Infrastructure
Issue
The Andhra Pradesh Assembly passed The Andhra Pradesh Decentralisation and Equal Development of All Regions Bill, 2020, paving the way for three capitals for the state.
Background
Amaravati will now be only the legislative capital, while Visakhapatnam will be the executive capital and Kurnool the judicial capital.
Details
The government says it is against building one mega capital while neglecting other parts of the state. The government has given several reasons for its "decentralised development" project.

According to the government, decentralisation was the central theme in recommendations of all major committees that were set up to suggest a suitable location for the capital of Andhra Pradesh.

In December 2010, the Justice B N Srikrishna Committee, set up to look into the demand for a Telangana state, had said Rayalaseema and North Coastal Andhra were economically the most backward, and the concentration of development efforts in Hyderabad was the key reason for demand of separate states.

A Committee constituted by the government under former IAS officer G N Rao, in its December 2019 report, recommended three capitals for balanced growth, and four regional commissionerates along the lines of Karnataka.

A high-power Committee appointed by the government to study the recommendations of the G N Rao Committee suggested that the state should be demarcated into zones with separate zonal planning and development boards in order to ensure inclusive development, and that infrastructure projects focussed Rayalaseema and North Coastal Andhra should be prioritised.
Problems involved
Executive capital Visakhapatnam is 700 km from judicial capital Kurnool, and 400 km from legislative capital Amaravati. The Amaravati-Kurnool distance is 370 km. The time and costs of travel will be significant.

The AP Police are headquartered in Mangalagiri, 14 km from Vijayawada, and senior IPS officers who may be required to visit the Secretariat will have to travel 400 km to Visakhapatnam. Likewise, government officers who may have to appear in the High Court will have to travel 700 km to Kurnool, which does not have an airport.

All officers and Ministerial staff who may have to be at hand to brief Ministers when the Assembly is in session, will probably have to stay put in Amaravati, leaving behind their other responsibilities in Visakhapatnam.

There is widespread feeling in Andhra Pradesh that the three-capitals plan is essentially intended to deny Naidu credit for building a signature capital after his own style.