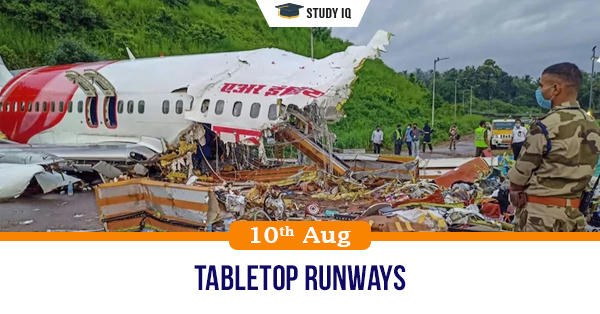 Tabletop runways
Date: 10 August 2020
Tags: Infrastructure
Issue
The Air India Express-operated aircraft from Dubai overshot Kozhikode airport's tabletop runway and fell 35 feet down a slope, resulting in the aircraft splitting into two. Kozhikode's runway is surrounded by deep gorges on both sides.
Background
The Air India Express flight with 190 people on board is the first major accident since the 2010 crash at Mangaluru airport.
Details
Tabletop airport is an airport located and built on top of a plateau or hilly surface, with one or both ends of the runway overlooking a drop.

The airports in the country which would count as "tabletops", are namely Lengpui (Mizoram), Shimla and Kullu (Himachal Pradesh), Pakyong (Sikkim), Mangaluru (Karnataka), Kozhikode and Kannur (both Kerala).

Tabletop runways are generally constructed by chopping off the top of a hill, and are often thought of as tricky for landings because of the lack of any margin for overshooting the runway.

Landing aircraft on tabletop runways, which are located on top of a hill or a plateau with deep gorges running down their sides, is a stiff ask in poor weather conditions.

Aqua planning (drainage of water) and rubber deposits at tabletop airports are huge safety threats as these can lead to poor braking and aircraft overshooting the runway.

Airports have a safety feature called Runway End Safety Area (RESA) of 240 metres, as mandated by the International Civil Aviation Organization, which limit the consequences when aeroplanes overrun the end of a runway. Both are Instrument Landing System (ILS) CAT 1-enabled.