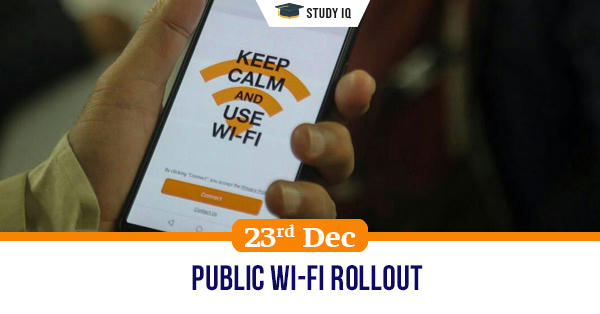 Public Wi-Fi rollout
Date: 23 December 2020
Tags: Infrastructure
Issue
The Union Cabinet has recently cleared a proposal by the Department of Telecommunications to set up public Wi-Fi access network interfaces.
Background
It is essentially a nationwide network of public Wi-Fi hotspots, termed public data offices (PDOs). It is similar to public call office (PCO) concept rolled out by the Indian government to set up a nationwide network of landline public pay-phones.
Details
The first and foremost reason being given by experts for laying down a public Wi-Fi network is to increase the proliferation of internet services in the country.

Several telecom sector experts have pointed to the fact that even in urban areas with sufficient mobile data coverage, the mobile internet tariffs are bound to increase. This presents an even stronger business case for the public Wi-Fi network.

In most European countries, the concept of public Wi-Fi is that of a decentralised network, where shops, restaurants and cafes, public transport facilities have rolled out wireless internet on their own.
Public Wi-Fi structure
At the bottom of the network's pyramid will be the PDO, which will establish, maintain, and operate compliant Wi-Fi access points, or routers, and deliver broadband services to subscribers.

Over a segment of PDOs, will be a PDO Aggregator (PDOA). This aggregator will perform the functions relating to authorisation and accounting.

Meanwhile, there will be an app provider that will develop the app for users to register on to the network, make payments to subscribe to the network and discover nearby hotspots.

Above all of these, there will be the central registry maintained by the Centre for Development of Telematics (C-DoT). In this registry, C-DoT will maintain the details of app providers, PDOAs, and PDOs.
Threats and problems
While Wi-Fi hotspots in coffee shops, libraries, airports, hotels, universities, and other public places are convenient, they're often not secure.

It also points out that most Wi-Fi hotspots don't encrypt information that is sent over the Internet and therefore are not secure. This could potentially lead to hacking or unapproved access to personal information on the device.

The Indian public Wi-Fi hotspot network, envisages that the access to the Internet through these points will be permitted only through electronic KYC and a mix of OTP and MAC ID-based authentication system, thereby minimising the risk of network security being compromised.
Previous attempts
In 2017, social media company Facebook had launched Express Wi-Fi. The project made little impact.

Google's Station project, to provide free Wi-Fi in more than 400 railway stations across India was shut down earlier this year.