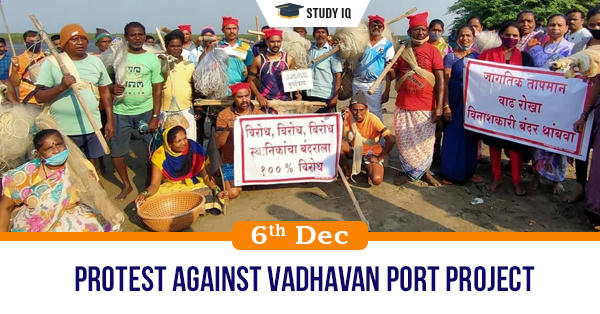 Protest against Vadhavan port project
Date: 06 December 2020
Tags: Infrastructure
Issue
The Vadhavan port project in Maharashtra has been facing protest from local fishermen. This has hampered the execution of the project.
Background
When ready, the government expects Vadhavan port to be among the top 10 container ports in the world.
Details
Locals including fisherfolks, tribals, and farmers have come together under Vadhavan Bandar Virodhi Sangharsh Samiti to protest against the biodiversity survey undertaken.

Locals say that construction of port will not only hurt flora and fauna but also disturb allied activities such as fishing and farming.
Vadhavan Port
Vadhavan port is part of the Sagarmala project that aims to make Indian ports major contributors to GDP of country.

The Vadhavan port, which will be India's 13th major port, has been planned as an "All weather, all cargo" satellite port to enhance capabilities in deep draft ships and larger vessels.

The port is also expected to handle the spillover in container vessel traffic at Jawaharlal Nehru Port Trust.

The Vadhavan port will have a dedicated road and rail service so as to not interfere with local transportation. It will be based on PPP model.

A special purpose vehicle (SPV) will be formed with Jawaharlal Nehru Port Trust (JNPT) as the lead partner, with equity participation equal to or more than 50% to implement the project.

The SPV will develop the port infrastructure, including reclamation and construction of breakwater, besides establishing connectivity to the hinterland. All the business activities would be undertaken under the public private partnership mode.

Currently, the Jawaharlal Nehru Port in Mumbai is the biggest container port in India and the 28th largest in the world.
Major ports of India
West Coast East coast
Kandla Tuticorin
Mumbai Chennai
JNPT Ennore
Marmugao Vishakhapatnam
Mangalore Paradip
Kochi Kolkata