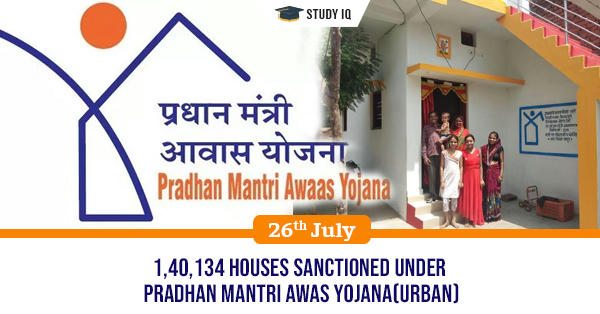 1,40,134 Houses sanctioned under Pradhan Mantri Awas Yojana(Urban)
Date: 26 July 2019
Tags: Infrastructure
Union Ministry of Housing & Urban Affairs has approved construction of around 1,40,134 more affordable houses for benefit of urban poor from 8 States under Pradhan Mantri Awas Yojana (Urban). This approval was given in the 45th meeting of the Central Sanctioning and Monitoring Committee held under Chairmanship of DurgaShanker Mishra, Secretary, Ministry of Housing and Urban Affairs. With this, cumulative number of houses sanctioned under PMAY(U) now is 85,11,574.
About Pradhan Mantri Awas Yojana (Urban)
It aims provide houses to all poor in urban areas by 2022, when the Nation completes 75 years of its Independence. It is new version of "Prime Minister's vision of Housing For All" by 2022.

Objective:

To construct two crore houses across nation during its implementation period from 2015-2022.

Coverage:

It covers entire urban area consisting of 4041 statutory towns with initial focus on 500 Class I cities.

Intended beneficiaries:

Poor people (BPL) and People living under Economically Weaker Sections (EWS) and Low income Group (LIG) categories in urban establishments of country. It also targets people living under middle income Group (MIG).

Central assistance will be provided to:

Urban Local Bodies (ULBs) and other implementing agencies through States/UTs for (i) in-situ rehabilitation of existing slum dwellers using land as a resource through private participation. (ii) Credit Linked Subsidy. (iii) Affordable Housing in Partnership. (iv) Subsidy for Beneficiary-led individual house construction/enhancement.

Funding:

Credit linked subsidy component of this scheme is implemented as Central Sector Scheme while other three components will be implemented as Centrally Sponsored Scheme (CSS).