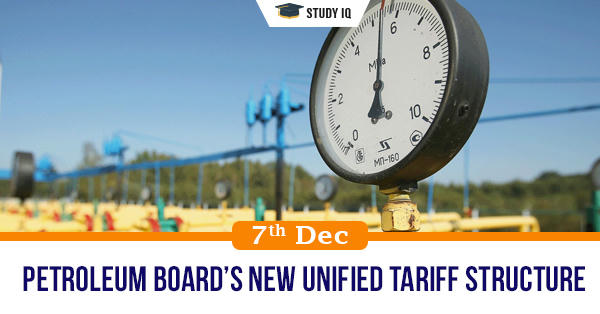 Petroleum board's new unified tariff structure
Date: 07 December 2020
Tags: Infrastructure
Issue
Oil regulator PNGRB has simplified the country's gas pipeline tariff structure to make the fuel more affordable for distant users and to attract investment for building gas infrastructure.
Background
The skewed cost for gas transmission to interior areas was the major reason for increasing natural gas prices. In order to make natural gas more affordable, this was necessary.
Details
Currently, the tariff is levied in proportion to the distance transported - the longer the distance, the higher is the charge. This resulted in consumers away from the coast paying higher charges as compared to those near it.

PNGRB has now notified a two-zone tariff structure - Zone-1 will be 300-km from the source of gas (gas field or LNG import terminal) and Zone-II will be beyond that.

This will lead to an immediate increase in tariff for user industries such as power plants and fertilizer units in Gujarat, which is the landfall for ONGC''s offshore gas field as well as houses three gas import terminals.

The new tariff structure would help create a single gas market in the country by attracting investment to complete the gas grid and make it more easily accessible.

This is part of the government's plan to raise the share of gas in India's energy mix to 15 percent by 2030 from the current level of about 6.3 percent to cut its carbon footprint.