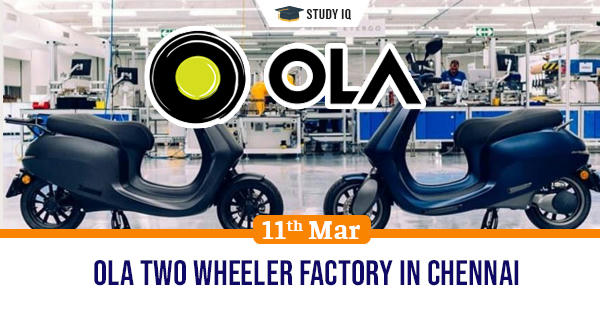 Ola two wheeler factory in Chennai
Date: 11 March 2021
Tags: Infrastructure
Issue
Cab service provider, Ola has started construction of a mega two wheeler factory in Tamil Nadu's Krishnagiri district.
Background
The factory is being called 'Ola FutureFactory' and will be operational by 2022. Once completed, it will be the world's largest two-wheeler factory.
Details
The factory will produce a two-wheeler vehicle every 2 seconds. This will give an annual output of 10 million vehicles. This will amount to about 20% of global production.

The factory will become the company's global manufacturing hub for its electric-powered scooters. These scooters will be launched soon.

The factory will supply two-wheelers to India and international markets such as UK, Europe, Latin America, Australia and New Zealand.

Ola is planning to ensure conservation of the greenery in the area by preserving and growing the trees on site.
Employment generation
The factory is expected to generate 10,000 jobs through this factory. It will bring Industry 4.0 principles, and will be having AI Engine and tech stack deeply integrated into all its systems.

The factory will be having high automation through robots, automated guided vehicles when it will be at the peak of its capacity.