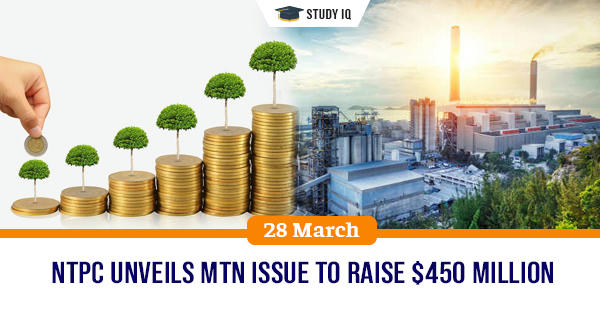 NTPC unveils MTN issue to raise $450 million
Date: 28 March 2019
Tags: Infrastructure
State-run power giant NTPC launched medium term notes (MTN or bond) to raise US $450 million (approx Rs 3,105 crore) as part of its US $6 billion (approx Rs 41,400 crore) MTN programme. The funds raised through this MTN issue will be used for capital expenditure by the company. MTN is also known as bonds in overseas markets.
Key Facts
The term notes have been issued NTPC in accordance with the applicable guidelines of Reserve Bank of India in relation to external commercial borrowings.

They carry coupon (rate) of 3.75% per annum payable semi-annually. They are expected to be settled by April 2019.

The notes will mature on April 2024 and all principal and interest payments will be made in US Dollars.

The notes will be listed on Singapore Exchange Securities Trading Ltd, India International Exchange (IFSC) Ltd and NSE IFSC Ltd.

The net proceeds from these notes will be used to finance NTPC's capital expenditure of ongoing and new power projects, coal mining projects, acquisition of power projects and renovation and modernisation of power stations.
National Thermal Power Corporation Limited (NTPC)
It is Central Public Sector Undertaking (CPSU), operational under Ministry of Power. It was accorded Maharatna status in 2010

It is India's largest power generator accounting for 25% of total electricity generated in the country.

It was established in 1975 by Central Government. Its headquarters are located in New Delhi.

It is engaged in core business of electricity generation and allied activities. It also has ventured into oil and gas exploration and coal mining activities.