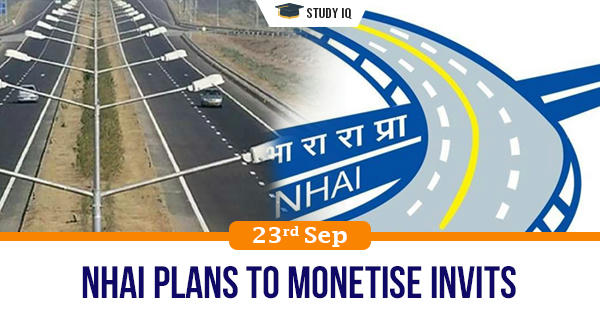 NHAI plans to monetise InvITs
Date: 23 September 2020
Tags: Infrastructure
Issue
The NHAI plans to issue InvITs in order to monetise their upcoming projects. The cabinet had approved the setting up of InvITs in 2019.
Background
The issue will enable NHAI to monetise its completed National Highways that have a toll collection track record of at least one year.
Details
NHAI's InvIT will be a Trust established by NHAI under the Indian Trust Act, 1882, and SEBI regulations. The InvIT Trust will be formed the objective of investment primarily in infrastructure projects.

Structured like mutual funds, they have a trustee, sponsor(s), investment manager, and project manager. While the trustee (certified by Sebi) has the responsibility of inspecting the performance of an InvIT, sponsor(s) are promoters of the company that set up the InvIT.

The NHAI reserves the right to levy toll on identified highways and it will help the company raise funds for more road development across the country.

Infrastructure investment trusts are institutions similar to mutual funds, which pool investment from various categories of investors and invest them into completed and revenue-generating infrastructure projects, thereby creating returns for the investor.

The capital market regulator notified the Sebi (Infrastructure Investment Trusts) Regulations, 2014 on September 26, 2014, and these trusts are likely to help facilitate investment in the infrastructure sector.

While the investment manager is entrusted with the task of supervising the assets and investments of the InvIT, the project manager is responsible for the execution of the project.

The fund raised can be invested in the project SPVs by way of an issue of debt. The trust can utilise it to repay their loans or even for prepayment of certain unsecured loans and advances availed by such project SPVs from the sponsor, the project manager, and certain members of the sponsor group.

With the significant amount of funding required in the infrastructure sector and a gap in availability of long-term funds, this structure helps close that gap by enabling fund raising from capital markets.

InvITs enable investors to buy a small portion of the units being sold by the fund depending upon their risk appetite.